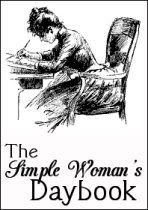 FOR TODAY (February 2, 2009)...
Outside My Window
It's a very gloomy, rainy, chilly day! Not that I'm complaining, mind you! It seems that we don't get much rain like we used to, so this is really a good thing! And I just love the sound of rain. For me, it is the most relaxing, soothing sound there is. LOTS of happy Robins, too! They were taking baths and loooooong drinks in the first puddle that formed in my driveway this morning. I love the sound of their happy chirping. It won't be long and they will start their long journey back north again!


I am thinking. . . What a long journey this has been with this breast cancer thing! Seems like ages since my last chemo back in December. Now, it's been almost a month since surgery. It's all healing up nicely, and I'm finding I can use my arm a little more each day. I'm so glad for that. It was a little unsettling to think that I might not have the use of that arm!


I am thankful forMy crazy sister! Ever since she moved down here about 10 years ago, we have been shopping buddies! Nothing makes us happier than to go grocery shopping together, whether we need anything or not --- and nothing disappoints us more than to see a big sale on meat and know we don't have room in the freezer for it! This happened this weekend. But we did come home with a HUGE slab of pork ribs each, and did we ever pig out! Recipe will be coming soon!


From the kitchen... Don't know yet! We devoured the ribs last night, so it might be chicken tonight. I have to use up what's in my freezer, and there seems to be a LOT of chicken in there. I have left over rice from last night.
I also want to make a zucchini bread as I have all the ingredients here!


I am wearing... cozy knit baggy pants, tee shirt, hat to keep my head warm.

I am creating... Nothing new at the moment. I do need to create a recipe notebook as I've been collecting such delicious recipes from every one's blogs! They are all keepers so far!


I am going...Nowhere that I can think of! To wet and soggy out there. Might venture over to my sister's house for coffee later! Can't miss that!

I am reading... Nothing much. I need to start reading again. What happened to me, anyways???? I used to always have a book in my hands, loved reading anything and everything. I lost my concentration skills somewhere along the line. Now it's one liners and pictures!


I am hoping...I continue to heal before my appointment with the oncologist next Monday. He will be setting up radiation sessions at that time. I should not have been reading about radiation burns, etc. Made me scared of that now!


I am hearing... Buster sighing as he stretches in his sleep. Always, always under my feet wherever I am. What a guy! As bad as he can be and as hyper and overactive, he's the greatest sleeping buddy you could ever want. I couldn't sleep last night, so he got his head and ears petted for hours! All he did was sigh, snort, and take it all in! Gotta love him!


Around the house... I'm on a roll! Cleaned the kitchen floor, gathered up laundry and already have two loads done. Where does it all come from????? We are only two people here and I have basket loads! Again, my trusty grabber came in handy for pulling the full baskets! I can't pick it up, so. . . . I just pulled it along behind me! Where there is a will (or lack of clean clothing) there is a way!


A Few Plans For The Rest Of The Week. . .
It's supposed to be cold for a few days, so I'll probably just stay home and keep warm. Don't know why, but I'm always cold ---- chilled to the bones! Doesn't matter how warm the house is, I'm still cold. That's a switch as I usually want the temp like a meat locker here.


A Scripture Thought. . . Jer. 29:11 --"For I know the plans I have for you, saith the Lord, a plan for good and not for evil, a plan with a future and a hope!" Isn't it wonderful to know that God not only KNOWS the future, but that He has planned it all out for us with only the best for us! And yet, we continue to worry! I wonder why. . .????

Here is picture thought I am sharing. . .

I will always remember my bike! Though I do know now that I must have had a legion of guardian angels watching over me as I rode further and further away from home on that thing! What an independent, adventurous soul I was as a kid! And that's my little sister on her bike right behind me!
I'm so glad to be able to participate with the others in this Notebook entry. You can visit The Simple Woman's blog
HERE!