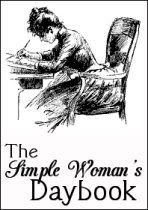 FOR TODAY (February 16, 2009)...
Outside My Window
The sun is shining, the sky is blue, and it's one of those perfect Florida days! The birds are at the feeder, and old dead leaves are falling off the trees -- I guess these are ones that froze last week an are now falling. My Cherry Laurel Tree has all new little leaves starting to grow!!!! Is spring really around the corner?


I am thinking. . . About how much better I feel! You know, when you go through chemo treatments and surgery, you forget what "feeling good" really is! Good days were only in comparison to the "road kill" days, and they weren't really that great at all. I'll be glad when the radiation is behind me!


I am thankful for My list is so long! But I'm so thankful for feeling great, for being able to do so much more, my arm is gaining strength, etc.


From the kitchen... Chicken Quesadias (sp???) tonight. Chicken salad with manderin oranges and pineapple for lunch. Already had a piece of apple cake for breakfast!


I am wearing... Same old junky loose pants and old tee shirt. I'm in a rut!

I am creating... A file for all the great recipes I find on all the blogs out there. They are just fantastic and have inspired me to try new things.


I am going... Probably nowhere. Post Office is closed today, so that is out. I'll walk over to my Sister's house, go out a few times with Buster, but that's it!


I am hoping... Or should we say "dreading" the radiation treatments! I'm encouraged to hear so many have NO serious side effects, but my oncologist got me all nervous about how I will react. I went out and bought an arsenol of creams and sprays just in case.


I am hearing... A crow in the distance that will not shut up!!!! But he can't seem to drown out the beautiful song of the male cardinal sitting out there as he croons away for the little female next to him. What a picture! Wish I had my camera handy!.


Around the house...My pile of quilt and fabric scraps was about 8 feet tall! Truly a mountain that needed attention, as it started to fall over on me today. It filled three huge black trash bags! That's one job out of the way. I think I'll be spending some time in that room straightening up and seeing what's on the bottom of my piles of quilts and fabric that I've forgotten about.


A Few Plans For The Rest Of The Week. . .
Wednesday I go for a CT scan. Remember way back at the beginning of my cancer journey and how I had this done?????? NOT a pleasant experience as that was the first time they tried to use my port, broke the needle, tried three times to punch that thing in, etc., etc. Hope it goes better this time. Some people just love having that port so the nurses don't have to dig for veins all the time. Mine has been nothing but trouble!!! Thursday I go to the radiologist. Not sure when the treatments will begin.


A Scripture Thought. . . Psalm 56:3 -- "What time I am afraid, I will put my trust in Thee." Isn't it wonderful how the little verses we learned as children in Sunday School constantly come back to us throughout our lives!!!!! I only wish I could say that I've always trusted when I was fearful! NOT!!!!! And now as an old lady, I can truly say that most of my time spent being afraid was a total waste as most of it never even happened anyways!

Here is picture thought I am sharing. . .




I've been trying different Apple Cake recipes, and this is a great one! But I still think Lea's over at Farmhouse Blessings is the best. This runs a close second:

Apple Cake
Ingredients:
1/2 cup butter, softened
2 cups sugar
1/2 teaspoon vanilla extract
2 eggs
2 cups all-purpose flour
1-1/2 teaspoons ground cinnamon
1 teaspoon ground nutmeg
1/2 teaspoon salt
1/2 teaspoon baking soda
6 cups chopped peeled tart apples
BUTTERSCOTCH SAUCE:
1/2 cup packed brown sugar
1/4 cup butter, cubed
1/2 cup heavy whipping cream
Directions:
In a large mixing bowl, cream the butter, sugar and vanilla. Add eggs, one at a time, beating well after each addition. Combine the flour, cinnamon, nutmeg, salt and baking soda; gradually add to creamed mixture and mix well (batter will be stiff). Stir in apples until well combined.
Spread into a greased 13-in. x 9-in. baking dish. Bake at 350° for 40-45 minutes or until top is lightly browned and springs back when lightly touched. Cool for 30 minutes before serving.
Meanwhile, in a small saucepan, combine brown sugar and butter. Cook over medium heat until butter is melted. Gradually add cream. Bring to a slow boil over medium heat, stirring constantly. Remove from the heat. Serve with cake. Yield: 12-14 servings.

I couldn't help but include this today. It is just the sweetest thing I've ever seen!!!!





I'm so glad to be able to participate with the others in this Notebook entry. You can visit The Simple Woman's blog
HERE!