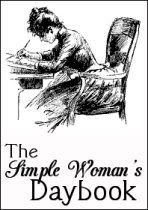 FOR TODAY (February 9, 2009)...
Outside My Window
It is just beginning to get dark, and only the cardinals are chirping at the feeder. They are always the first to come in the morning and the last to get a "late night snack" before dark! Things look so . . . dead out there! We had some hard freezes in the past few weeks and what was green is now very wintery brown. You folks up north wouldn't understand, but this is Florida!!!!! I'm used to a green lawn all year round!


I am thinking. . . About today's visit with my cancer doctor. He was in a ripe mood today with silly jokes, etc.! He checked out my surgery spot and asked ME (of all things!) why this one spot was so red!!!???? As if I would know the answer to that! He did tell me, though that I would have a hard time with the radiation as I have "a lot of skin there" to go through. Just what I needed to hear! The appointment is set to start on Feb 19. Funny thing! The girl at the appointment desk was going to have me start this Friday, but just wouldn't let me do it because it was Friday the 13th and insisted that would be a terrible day to start. Couldn't convince her that it was ok with me! So the 19th it is!


I am thankful forA beautiful, warm, spring-like day today with lots of sunshine! I'm thankful Patsy is doing ok as she is in the hospital with some kind of intestinal obstruction. She's been in there since Saturday morning, but if everything is ok, will be home tomorrow. I'm thankful for my Sis an our fun "girl's lunch out" today at Perkins. And I'm so thankful that I'm on the last leg of this pink journey through breast cancer.


From the kitchen... Just finised some french toast with Buster! I'm not used to cooking for one, and had all this bread and lots of eggs on hand. My favorite meal!!!!! Tomorrow I'm baking Lea's apple cake!


I am wearing... Black slacks, a nice blouse and my chemo hat. Still dressed from going to the Dr.

I am creating... New meal plans as things have to change with Patsy's diet. Very small meals, 6 times a day, no gassy foods, etc.,etc. It will be a hard thing, for sure, but we'll figure it all out.


I am going... The farthest I'll be going tonight is outside to throw Buster's new ball. I got an extra large football for him, so he has to struggle a little to keep it in his mouth. He loves it!!!!


I am hoping... I continue to get more and more use of my arm. I'm so glad it's doing so much better. Just can't lift it too far yet. Better than last week, though!


I am hearing... The hum of my computer and Buster chomping down his dinner. PeeWee is walking around the house meowing, looking for Patsy.


Around the house... I walked through the house with Patsy's walker today. She would never use it when she got it 2 years ago, saying she couldn't get through the house with it. I did have to move the table in order to get through to the kitchen, and then moved some other things to make a smooth sail through to the bedroom, etc. I think she is way past using 2 canes anymore and the walker will be much easier on her and give her more stability!


A Few Plans For The Rest Of The Week. . .
Tomorrow I'll probably be picking up Patsy from the hospital and getting her settled back home again. Then, I'll need to catch up on getting things listed on ebay, etc.


A Scripture Thought. . . The verse in Job 23:10 that says, But he knoweth the way that I take: when he hath tried me, I shall come forth as gold." Isn't it strange that when we want what is God's best, the way always seems to lead through the purifying fires!!!! So many of my dear friends are truly being tried with hard times, illnesses, financial troubles, etc. Yet, I each one has been such a testimony of God's grace as I have seen "gold" being formed in their lives!!!

Here is picture thought I am sharing. . .
Please pray for Jase!!!! This is Lea's (from Farmhouse Blessings) son, who is facing some problems with a possible heart condition. Pray for the Doctor that he sees on the 25th, that they will have wisdom from God as to how to treat Jase. Also pray for Lea and her family that the Lord's peace will surround them as they wait through the next few weeks!Please go and visit and leave an encouraging word for them! --
Lea's Farmhouse Blessing Blog!
I'm so glad to be able to participate with the others in this Notebook entry. You can visit The Simple Woman's blog
HERE!