Can it be that I'm "getting it?" If only I had carried a pen and a tablet with me everywhere this week, I would have been able to list countless blessings and thank-you's!!!! I got the book a few days ago, and have NOT been able to put it down. I am racing through it, to the point I have the page ready to turn, long before I'm even there. And I don't want to. But I have to. I can't explain it. I've decided I will read and read and read to the end and then begin again. I just have to know the end. I can't stop along the way, or take a breath, go back for do-overs. I've never done this with a book. In fact, for years I thought I could never read again. I had lost that ability to concentrate. I had been reduced to flip calendars. . . . at the most, maybe a page in a daily devotional. But the challenge to live in the moment, to experience God's graces, to thank Him for all things. . .
I don't even SEE all things. . .Maybe when it all sinks in and I can wrap my heart and life around it and I begin to see - REALLY SEE -- I'll find a way to explain it all to you. In the meantime, I will count, I will make my list, and I will continue to encourage you, too, to rean Ann VosKamp's, One Thousand Gifts!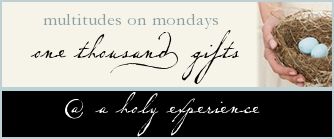 14. Warm sun rays warming the soil.

15. Seeds that give me hope and faith in beans, green onions, carrots, radishes.

16. White, snowy flower blossoms floating through the air as the gentle breezes loosen them from the branches of the cherry laurel trees.

17. The cry of peacocks in the distance.

18. A family of wrens pushing leaves aside looking for the first bugs of spring.

19. Buster's exuberant joy in having me working in the yard again. All I have to say is, "Let's go do the beans!" and he knows we are doing important "stuff" in the yard together.

20. Two ringed-neck doves who faithfully watch over each other. One watches for predators as the other, trusting her mate's protection, eats quietly under the feeder.

21. My sycamore tree. Can it truly be 6 years old now??? A gift from my sister, and always a reminder of her love and friendship and all we have been through together. It stood about 4 feet tall when we first planted it. Came with a supporting stake, taller than the tree, and tied securely to each other. Stake and tree together were planted with hopes and faith . . . . . Always hope and a faith that sees a future sheltering shade tree one day. Now? . . . The stake was no longer needed after a few years and the tree broke away the bands holding the two together, now able to stand tall and straight on its own. I smile when I stand at my sister's place, look over the roof of my house and see those sycamore leaves waving at us. I remember my fears during the dark days of chemo treatments. My tree had begun that spring healthy, sprouting out leaves that turned perfectly green and giagantic -- just as a sycamore is to do. But as the deadly, cancer-killing chemicals left my body, so my tree soaked them up (Yes, I planted it much too close to my septic tank!!!!). The leaves began to turn brown on the edges, curling from the poison being fed to them. But they hung on to life, and the following spring began the life cycle again, new and whole. We've made it through so much . . . Juri, the sycamore tree, and me.

22. Large crows cawing in my driveway. All I can say is, I pray the mockingbird does NOT learn THIS song.
The mockingbird sang a contata full of spring melodies this early morning. It was worth getting up early just to hear this one-bird choir sing his God-given song from the top of the telephone pole. Seems to be his favorite pulpit.

23. Whitey's smile.




24. Loretta's hug.

25. Artie's song.

26. Trina's heart.




27. A Sunday full of reminders that, "His love has no limit, His grace has no measure, His power has no boundary known unto men. For out of the infinite riches in Jesus, He giveth, and giveth, and giveth again!"

By clicking the button below, you will be taken to a wonderful place that will show you hundreds of others who are counting. Somehow, I know God is smiling as He hears thousands of thank-you's being whispered in His ear!