Ann Voskamp continues to encourage us all to keep on counting our gifts daily. You can find a host of "gift-counters" by clicking the banner below. I'm warning you, though, you will come away with your heart warmed, a smile on your face, and a desire to start counting. . . . .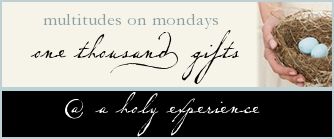 8. Warm rays of sun that turn the chill of my bones back to normal again. After several dark, damp cold days, the bright blue of the sunny skies is so welcoming and embracing.

9. An old wooden rocking chair on my back porch. A place where memories join me every time I sit there -- memories of watching a little brown puppy I named "Buster" explore and run and chase balls and butterflies. Memories of deep, anxious thoughts when the battle for life was being fought with chemo, radiation and surgery. Memories of weakness --- when it took everything within me (and the help of a pole) to get up out of that rocker. Memories of strength when the battle was over, health returned full and renewed and flowers bloomed once again.

10. A pair of titmice who seem to know better than I do that God is faithful and that Spring always follows Winter. With the first hints of longer days, warmer suns and budding trees, these two are arguing as to which is the better of the birdhouses. One has a bigger doorway. One is higher than the other. One has a wooden roof, the other a tin roof. One is bigger. One is on a pole and the other on a tree. Does any of it matter??? It does to titmice!

11. A note from a friend I never knew I had! We blog, we share our lives, our thoughts, our prayers, our fears. Some leave comments and we appreciate them so much. Some become friends and pray for us, and we thank God for the encouragement and faithfulness of their walk iwth us. Then comes a "delayed gift." I find out I've been on someone's prayer list these past few years. Someone who found my blog and whispered my name before the Throne of Grace as I tried to find my way down the unknown paths of Cancer. Thank you, Penni!

12. A box from my sister-in-law containing some books that were special to my brother, Tony, along with many hand-written notes -- things he wanted to remember, things he deemed very important, things that only make me wish I had known him better, things that cause my heart to yearn for deeper things - gifts I have to dig for.

13. A Hershey's Kiss from a smiling gal at the drive up window at the bank. It made me smile and it tasted soooooo good!

My prayer today is that you, too, will look for the gifts left for you, take the time to unwrap each one carefully and treasure them with a thankful heart!