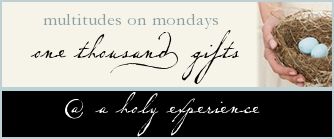 I finished reading Ann's book, 1,000 Gifts, and have started rereading it for the second time around. I struggled with it! Maybe it was because it's been a long time since I tried reading really deep books. I used to and loved the challenge and the soul searching they would bring. Maybe I was holding back, not wanting to move out into the truth of its message. Maybe it was all my own past getting in the way of my opening my clenched fists to allow God to fill them with what He knows to be good. Anyways, it was hard. I don't think the author meant for it to be easy, as it seemed to be a soul-wrenching journey for her. I only know, I want it! I want to see. I have so many dark rooms in my life that have heavy locks and no windows, and they have not been open in a long time because what is in them is NOT what I thought I wanted to see and say thank you for. As I read this book for the second time around, I'm finding myself a little less stoic with my clenched fists holding the keys to those dark places. Can I really learn to see, and to find the grace He promises and to say thank you for the hard things, the dark things, the things I don't understand???? Join with me and hundreds of others as we count our thousands of gifts and hold out our open hands for more:

28: Two cups. Always two. They sit on my kitchen counter, waiting for morning,
sleepy eyes, hot coffee. Always two friends, drinking in silence until the caffeine kicks in and we can say "Good morning!" Always two empty cups.

29. Seedlings. Little, tiny leaves and stems pushing up moist, warm dirt. I can almost hear them praising the God who created all things for the chance to live and grow and prove once again that Springtime and Harvest follow the cold and deadness of winter. Faith! So big and vast and we have such a hard time catching it. But there it is --- all packaged up in a little, tiny seed. Dead, but full of life. All it took was believing life was in there and placing it in the ground.

30. Pigeon Peas. Never heard of them before, never tasted them, never saw one --- why would my nose wrinkle at the thought of eating one???? My sister heard about them, and found out we could grow them here. She bought a can at the grocery store just to try, and we are hooked!!!! So the pigeon peas are planted all over the place. Supposedly, they grow quite large, chickens eat them, goats eat the leaves, you can eat them fresh dry them for later, etc., etc. Lesson learned: don't wrinkle your nose up till you try something!

31. Wisteria starting to bloom! Hundreds of flowers pushing their way out! A very dear friend gave me a rooted stick years ago, planted it by my fence, and built a nice high trellis for it to climb on. Talk about faith! Thank you, Dan! Whenever I see those flowers, I'm reminded of your faith, your giving spirit, your love for flowers, and all you did for me!




32. Lea over at the Potting Shed! A gal who can ignite sparks in the deadest of hearts, put a song in a broken spirit, and hold an umbrella when the rain pours down around you!

33. Charlene, a new found friend with a heart of gold and a passion for God!

34. Squeeze of a friend's hand!

35. Meatloaf. Just too good! Comfort food to the max!

36. Iced Tea. Cold, wet, peachy, iced tea after a dirty, hot hour in the sun.

37. Buster's panting, hot face buried deep in his water bowl. He's so happy when
Momma is happy. Big Blue ball gets a work-out, football lands in the pond, feet are muddy, but who cares? Life is good, and we'll do it again tomorrow!

38. Bread. Most of you know I love bread more than anything. But this was special bread. Two long loaves of Italian bread. FRESH! Brought to my sister by our neighbor. Brought to me by my sister. I couldn't stop. Oh, Lord, could this possibly rate up there as one of the best gifts of the week?????

39. Sharing God's word with friends. Like breaking open a fresh loaf of bread and tasting it new and fresh again.


Click the link below and hear the whispers of thanks from hundreds of others who are counting their gifts: