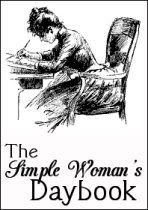 FOR TODAY (December 22, 2008)...
Outside My Window
A beautiful sunny, breezy, Florida morning! Brown oak leaves are still falling, leaving a blaket of leaves scurrying across the yard as the wind blows. Birds are at the feeder, and the titmice, chicadees, and wrens are fussing at something in the jasmine vines. Hope it isn't a snake!!!!!


I am thinking. . . Of all the tings I want to do today. So glad I feel stronger again to be able to do it!


I am thankful forGod's provisions! A full freezer, full refridgerator, a full food cabinet, lots of good recipes to choose from!!!!


From the kitchen... Waldorf salad, potato salad, chicken wings with blue cheese dip, hot sauce, etc.! Can't wait!


I am wearing... A snuggly, knit nightgown, warm bathrobe, a HAT!!!!
Here it is, mid morning, and I'm not dressed yet. Too comfy this way!

I am creating... Taking a break from creating! But I need to get back to some new ideas. I have a HUGE bag of hand-dyed, felted wool that is begging to be made into penny rugs!!!


I am going... Probably nowhere today, except out to the bird feeder.

I am reading... Way too many good recipes. So many blogs out there with wonderful, Christmas recipes and I want to try them all. I even have this craving for a pimento cheese dip that we used to have years ago. Wouldn't you know, I found a perfect recipe for that!


I am hoping... The abscessed tooth is gone for a while. Took the antibiotics and they seemed to have worked in getting rid o the abscess. I know I need a dentist, but will wait until after this cancer thing is all done and over with. Hope the tooth hangs in there til then!


I am hearing... A telemarketer on my answering machine!!!!! I did the "do not call" thingy, but there are still some hanging in there and calling. I feel sorry for these poor people trying to make a buck this way. But they are soooooo annoying! And Buster thinks these phone calls are for him, jumps up, and listens so carefully to every word! I wonder if he's waiting to hear his name or something?????


Around the house... I make more messes than what gets cleaned up! But as I'm feeling better, I do seem to get a little more done each day. I think I'll focus on the floors today. I see that Buster has gotten into the trash and ripped up some paper plates, licked a butter wrapper clean, pulled out the bread wrapper, etc., etc. LOTS of picking up to do as I try to talk sternly to him about being bad again. Will he ever learn????


A Few Plans For The Rest Of The Week. . .Nothing much! Looking forward to a quiet Christmas, good music, good eats, etc. Just wish we could get one good snow storm here in Florida.


Here is picture thought I am sharing. . .


My family on both sides were from Holland, so there were some very traditional recipes in our home that I loved so much. One of my all time favorites were the oliebollen!!!! "Fat balls" is the literal translation. Better than any donut you ever had. Full of apple chunks, raisins, etc. You can bet I'm making these for Christmas this year, and as I'm stuffing them in my mouth, I'll be remembering my childhood and all the wonderful memories of my Dutch heritage!!!!! Here's the recipe if you would like to try! But I'm warning you ---- you can't eat just one!
OLIE BOLLEN
--------------------------------------------------------------------------------
2 pkg. yeast
3/4 c. warm water
6 c. milk, scalded
3 eggs, beaten
3/4 c. sugar
1 tsp. salt
1 tsp. lemon juice or extract
6 c. flour or more
3 c. raisins
3 c. peeled and chopped apples
Soften yeast in warm water. To cooled milk, add the eggs, sugar, salt, and flavoring. Add yeast mixture and then gradually beat in 6 or more cups of flour and raisins and apples. Dough should be stiff.
Let rise until double in bulk (covered with dough cloth). Stir down and let rise again until double. Fry in deep fat at 375-400 degrees. (Use ice cream scoop to drop dough into hot oil.) Drain on absorbent paper. Dip or serve with powdered sugar. (Bollen will usually turn over by themselves while in hot oil.)
______________
I'm so glad to be able to participate with the others in this Notebook entry. You can visit The Simple Woman's blog
HERE!