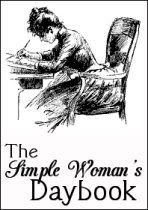 FOR TODAY (December 1, 2008)...
Outside My Window
It's sunny and there is a breeze blowing the leaves around the driveway. It rained yesterday with strong winds at times, so most of the oak leaves, etc., came falling down. It was fun to watch Buster chasing those wet leaves. The birds are pushing the huge sycamore leaves around the ground at the feeder looking for seed. I need to get out there and feed them.


I am thinking. . . Wednesday is coming much to quickly. My last chemo session. A while back, I stated I just couldn't understand how people just kept coming back for that awful stuff, willing to get so sick time after time. But here I am, going for number 6. Sometimes during the worst parts, it doesn't feel like it, but looking back at it all, I know that the Lord has walked with me through those times.


I am thankful for HATS! Having a bald head is a whole new ball game for me, believe me. Since we have had some chilly weather lately, I've learned that bald heads get VERY cold! My sister was so kind to give me the softest, warmest hat that she knitted! I just love it!


From the kitchen... All done with turkey left overs! Tonight is a Mexican casserole!


I am wearing... My usual --- black slacks, tee shirt, no shoes!

I am creating... A list of all the stuff I need to do before Wednesday.


I am going... To the post office to mail packages.

I am reading... Very little. My eyes have gotten a lot worse since starting chemo, but I want to wait until all this is over before getting another eye exam.


I am hoping... To get laundry all done before Wednesday. I also need to get some angels cut out ahead of time so I can just sit and stitch next week.


I am hearing... Buster snoring behind me. Ever since he was a puppy, he has claimed that spot behind my computer chair. It's where he sleeps the best. I hate to move as a sleeping dog gets into NO trouble!


Around the house... So much to do. Don't even know where to start.


A Few Plans For The Rest Of The Week. . . Tie up loose ends before Chemo on Wednesday. Go back Thursday for the Neulasta shot. Then it's all downhill from there.


Here is picture thought I am sharing. . .


Guess who???? That's right -- it's me!!! You know, when you are a kid, time seems to stand still. People who are 60 years old seem older than the earth itself when you are young! Now???? It seems like yesterday when that picture was taken. I've often thought about the roads I've traveled, people I've met, decisions I've made, etc., and how any one of those done differently could have changed the direction of my life totally. I've often wondered, when we get to Heaven, will the Lord show us the "could have been's", and all the ways our lives could have turned out had we made different choices??? Like that old song says, I do have some regrets. But mostly, I'm thankful for the ways the Lord has taken me. He's always been there, always cleaned up my mistakes, always forgave me, always loved me, and always gave me second, even third chances. Isn't He great?
______________

I'm so glad to be able to participate with the others in this Notebook entry. You can visit The Simple Woman's blog
HERE!