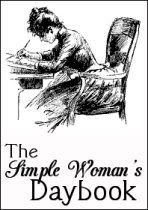 FOR TODAY (December 22, 2008)...
Outside My Window
Very blue skies and nice and warm. Supposed to be in the 80's today. As much as I've loved all the photos on everyone's blogs with snow, etc., I'm very thankful NOT to have to shovel, drive, and bundle up in that stuff. The squirrels are checking the feeder for food --- I have to get out there and fill it up!


I am thinking. . . About tomorrow! I go to the surgeon to set up a schedule for the mastectomy. It's strange --- back in July I was all gung-ho on having it done with no fears or anything. Now, I feel a little like NOT!!!!! It isn't the fear of being operated on. It's all the before testing, and the after stuff that seems like a big hassle! I just want it all over with and get on with life!


I am thankful forAngel Food Ministries! Last Saturday, I picked up my first order from them, as they opened up a host site just down the street from me. I wasn't sure what to expect, but the quality of the food was #1, and I got so much for my money. What a great ministry this is! If you are interested in finding out more about this, you can check it out HERE!


From the kitchen... Potatoes augratin and ham, green veggies, cold pea salad, homemade oatmeal cookies.


I am wearing... Still in my nightgown!!!!

I am creating... Lots of cut outs for angels. Trying to get ahead on cutting stuff, as I'm not sure how long it will take to heal from surgery. Not knowing how soon it will be, I want to be prepared ahead of time to have stuff to stitch on when I get home.


I am going... Probably nowhere today, except out to the bird feeder.

I am reading... Way too many good recipes. I found a wonderful site hosted by Kraft foods. It has a million great recipes and also a great community site where you can share recipes, ask questions, etc. You can find it HERE! If you click on the "community" button on the upper right hand side of the page, you can join in the yahoo group!


I am hoping... Everything goes smoothly with the surgeon tomorrow. I never know what questions to ask, etc. I wish I could fast forward time and just have it all over with.


I am hearing... Buster snoring under my feet. His head is propped up on my feet. He's sooooo good when he's sleeping. When he's awake. . . .?????


Around the house... Cleaning floors today, a little laundry, take out trash --- all the usual stuff.


A Few Plans For The Rest Of The Week. . . No plans until after tomorrow. I'm sure I'll be running around getting all the pre surgery testing done.


A Scripture Thought. . . Jer. 29:11 --"For I know the plans I have for you, saith the Lord, a plan for good and not for evil, a plan with a future and a hope!" Isn't it wonderful to know that God not only KNOWS the future, but that He has planned it all out for us with only the best for us! And yet, we continue to worry! I wonder why. . .????

Here is picture thought I am sharing. . . I'm so glad to have my younger sister living so close to me! Just wish I could have seen my older sister this Christmas and had our pictures taken again like this! Time flies, doesn't it? Seems like such a short time ago this was taken. . . . but there's been a whole lifetime in between!


I'm so glad to be able to participate with the others in this Notebook entry. You can visit The Simple Woman's blog
HERE!