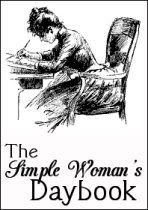 FOR TODAY (December 8, 2008)...
Outside My Window
It's COLD for Florida!!!!! There's a breeze blowing, the big, brown Sycamore leaves are chasing each other across the driveway. The sun is shining brightly, and the birds are scratching under the bird feeder for whatever might be left for them.


I am thinking. . . LOTS of thoughts. The past few days were hard ones after Chemo #6 on Wednesday. It's so easy to feel sorry for yourself when you go through this, but I realized Wednesday that there are so many others that go through so much more with little or no results. I've had a very strong dose, it's done it's job, so I'll take the side affects this last time and get through it.


I am thankful for A million things. But the most simple thing I'm thankful for is Carnation Insant Breakfast Drink. It's the only thing I seem to be able to swallow and keep down right now.


From the kitchen... Nothing! I can't even stand the smell of stuff cooking. Patsy is on her own for a few more days.


I am wearing... A snuggly, knit nightgown, warm bathrobe, a HAT!!!!

I am creating... Nothing. But I saw some great ideas on a craft segment of the news today for a window dressing for Christmas. Pine garland at the top of the window, wide ribbon coming down the two sides to about the middle of the window, a branch tied to the ribbon (picture a swing here!), some cardinals on the branch, and snowflakes hanging from the pine garland. It was just beautiful and so simple to do.


I am going... To the post office to mail packages, if I can make it. Otherwise, my sister will do it for me.

I am reading... Nothing right now.


I am hoping... For a great report on Thursday when I go back to the Dr. Also hoping that surgery is stalled until after the holidays. I'm not up to it.


I am hearing... The hum of the computer mixed with the hum of the heater blowing. There's a wren outside my window chirping away!!!! Is he happy or begging for seed?????


Around the house... Wash is piling up. And I must do something about "stuff." Way too much stuff around!!!!


A Few Plans For The Rest Of The Week. . .Nothing except getting my strength back before Thursday's Dr. visit and catching up on friends' blogs, etc. So sorry I haven't been to each of your blogs lately. It's just been so hard!


Here is picture thought I am sharing. . .
When we were children, one of the most exciting days of the year was when we celebrated the Dutch Christmas with Sintra Clas, Swarta Pete, etc. My uncle had the whole costume, and it was enough to scare any child into nightmares, believe me. But we would sit on his lap, receive a present, and we always put our shoes outside the door and hope we did not receive a piece of coal in the morning. It was always an orange or something like that. The memories are sweet for me. The Dutch traditions were important to my family, even though they wanted each one of us to be as "American" as we could be. I wish I had learned more from my Mother and Grandmother. They didn't know how rich they were with wisdom, abilities, talents --- all of which I wish I had now.
______________
I'm so glad to be able to participate with the others in this Notebook entry. You can visit The Simple Woman's blog
HERE!