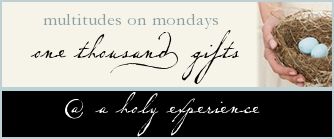 487. Hearing God's Word preached and knowing in my heart it came straight from God.

488. Having the resources to dig deeper into the questions that were raised in my heart in response to this preaching.

489. Sharing this with friend.

490. Friends who encourage me to share my heart without feeling intimidated.

491. Knowing that God is NEVER intimidated by what I say --- He already knew it anyways.

492. Hours of talk with my sister. It's amazing how there is "talk" and then there is "REALLY talk."

493. The aroma of a pot of baby limas cooking with tons of carrots and little pieces of ham.

495. A friend who lost her job with the school system because of state job cuts, but was called back 2 days later. We were all praying she would find another job soon. Who knew the Lord would reopen the same job???

496. The internet. What did we do before this??? Chuck full of information, answers, encouragement --- to say nothing of the friends and mentors and teachers we meet here.

497. Little red cherry tomatoes hiding among other plants. I let those wild tomato plants grow. Do I remember correctly these kind of plants are called "Free Will tomatoes?" They did really well, much better than when I planted the plants last year and babied them so much. Buster loves them and eats them right off the plants.

498. Momma cardinal feeding her baby at the feeder.

499. Fresh eggs.

500. Laying my hand gently on Buster when he has his nightmares and hearing him heave a big sigh and relax again. Whatever it is, he's had these heartbreaking dreams since puppy hood and it's pathetic to listing to him cry like that.

501. Cold ice tea on a VERY HOT day.

502. For struggles that seem to have no answers except to make me think and grow stronger.

503. For questions that make me dig for answers.

504. For answers that bring up more questions.

Joining with Ann VonKamp and a multitude of others who are counting their gifts in everyday moments. . .