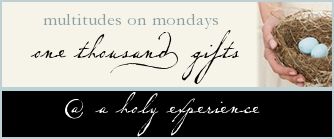 455. Still bringing in beans --- those long, asparagus beans. Vines are starting to thin out, so I may just get a second planting. They love HOT weather. Trouble is, I DON'T!

456. Mornings still cool enough to do some yard work without becoming buzzard bait.

457. A REALLY GREAT hot dog with saurkraut. Every once in a while, you just GOTTA give in to those cravings.

458. That God can change people, even old people, like ME.

459. That I would even WANT TO change.

460. That I would want to do it with accountability to a trusted few.

461. That He orchestrates it all, bringing other bloggers into the picture because they are sensitive to God's direction and leading in what they say.

462. That keeping this list of blessings, gratitudes, and simple thank you's has changed so much in my life:
I have seen light shining where there used to be only darkness, and guess Who was there? Makes me want to venture a little deeper and let Him shine the light on it.

463. That the title to my blog, Hidden Riches in Secret Places, is coming full circle back to me.

464. That when darkness veils His loving face, I can rest in His unchanging grace; Through every dark and stormy gale, my anchor holds within the veil.

465. That God can resurrect trust even when every shred of trust within me is dead. Thank you, Craig!

466. The sound of thunder in the distance. Rains coming? We need it sooooo badly!

467. Darkened skies. Rain is coming!

468. Hearing first drops hitting the leaves of my sycamore tree.

469. Gentle showers washing away dirt and dust, making all things new and beautiful again!

470. Walking through puddles. I've been a puddle splasher since grade school!

471. Watching birds who can't get enough of puddle splashing either!

472. That God ALWAYS keeps His promises.

473. That sometimes I'm in the middle, that place between the making of the promise and the fulfillment.

474. That I can continue walking, knowing it will be --- maybe not today, but IT WILL BE!

475. That He is able to keep me from falling.

476. That He presents me faultless before the Throne of Grace! Faultless!!!!! ME!!!!!!

477. Reading "The Scent of Water: Grace for Every Kind of Broken" by Naomi Zacharias and feeling my gut being wrenched already, though I'm only in chapter 4.

478. That I'm finding I'm doing better with reading! I used to read everything I could put my hands on. Then found I couldn't concentrate, couldn't remember what I read, etc. Chemo brain???? I don't know! It really bothered me for a while. Lately, the desire to read has been overwhelming, and I started again by just reading and rereading until "I got it!" Slowly but surely, it has come back again. Thank you, Lord!

479. Finding so many little, tiny eggplants on my plants. What to do????? I don't like eggplant that much! They look like little Christmas ornaments perfectly placed on little trees. Maybe by the time I try a different recipe each time I bring them in, I'll find SOMETHING that I like.

480. Hearing all the frogs "singing" at night and others singing back from far away. Add to the chorus, a whipoorwill, a rooster that doesn't know it's night time, and a mockingbird that hasn't stopped singing for a month now, and . . . . Yes, God DOES give "songs in the night!" Kind of sounds like I live in a swamp. Swamp songs!

481. That I still have time to replant beans for a second crop. The question is, WILL I???? It's REALLY HOT out there.. . .

482. That I have a brother-in-law who handles the "man tools" and saws and chops trees that fall across my driveway.

483. That nothing goes to waste, as birds pull away loose bark off of the fallen tree and find lunch ready and waiting for squawking babies.

484. That my sister, who seems to have gone over the edge in her determined efforts to get rid of the vultures, is winning the battle after all ---- BB guns, bobbing-headed plastic owls, garlands made of shiney silver and bright plastic ornaments hanging in trees, a good hosing now and then ------ I only saw one last night, and Buster did a good job is chasing that one off. I used to think the obsessions of older people were a hoot when I was younger --- like my father sitting in his lawn chair with a poker, waiting for the moles to come and then spearing them with shouts of victory. But my sister and I are there now. And there is something about being old and not letting a vulture get the best of you. It's like your last stand in life, your claim to victory. So please bear with us, you younger ones who think I've lost it!

485. Spanish Rice! When was the last time you had Spanish Rice????? When I was a kid, this came in cans, ready made, and you just heated it up as a side dish. We had it all the time and I loved it. What happened to Spanish rice????? Another significant sign of old age ---- craving the foods of your youth! I made it from scratch, and I couldn't get enough. You'd think it was the last meal I would ever get.

486. Sycamore leaves, now full sized, doing what they are made to do ---- make shade. Watching the breezes make these leaves dance, which make the shadows dance . . . And makes me smile. It's been almost 3 years now since I nearly killed this tree. It's planted close to my septic tank. Too close, but I don't care. When I went through chemo treatments, I never gave it a thought that all that poison would go OUT of me, INTO the septic tank, and end up in my tree! I cried when I saw all those beautiful, perfect leaves turn brown and curl up. I wondered if it would come back the following year ---- I wondered if I would be back the following year!!!!! It did come back, more full and stronger than ever. And so did I.

Joining with so many others who find blessings in the most wonderful places. . .