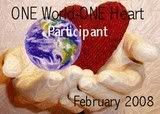 I'm so pleased to be a part of this wonderful giveaway sponsored by One World One Heart. Please be sure to click on the link above to take you to all the wonderful participants in this even and enter any or even ALL of their drawings. You can

Click here for One World One Heart Giveaway Page!


To be eligible for this drawing, all you have to do is leave a comment to this post saying you want to be entered, and your name will be "put in the hat," so to speak!
You will be notified at the end if your name is drawn. No strings attached, no ads, no personal information to give --- just have fun!

My give away is set of 12 angels made from doilies and quilts. Perfect as ornaments, package tie on's, card enclosures, or just little gifts!

Be sure to enter today by leaving a comment to this post for a chance to win!