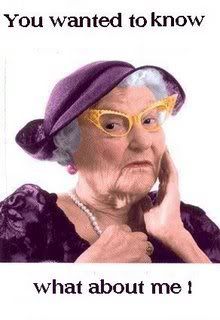 Blondie from Vintage Prims!
has tagged me today and I must tell 5 things about myself that most people wouldn't know. Then I am to tag 5 more people! This is hard, as I've done it before, but I'll do my best to come up with another 5 things. Here goes:
1. I eat my jelly beans according to color, and I eat all the black ones first.
2. I want to buy every commercial site or building that I see that is for sale. I always thing I could really do something in that spot and make a million bucks!
3. I can't touch worms or other squiggly things, and I hate to see fish die on a hook, so I can't go fishing!
4. I'm a counter and there are 56 steps from my back door to my Sister's front door.
5. I can't sleep without a light on!
Now who can I possibly tag that hasn't already been through this?????
Joann from http://jywheeler.blogspot.com/
Kris at http://paintedkreations4u.blogspot.com
Vic at http://2muchfarmprimitives.blogspot.com/
Dani at http://dani-eagleswings.blogspot.com/