I never thought it would come to this!!!! But I have fallen in love with aprons!
Yes, you heard me right ---- APRONS! For about 18 years now I have been thrift shopping, antique shopping, etc., and I always notice the aprons. For a long time, I had a few hanging in my bathroom window, acting as my curtain there with clothes line, clothes pins and everything. But I NEVER thought I would wear one.

Lea from Farmhouse Blessings has been making aprons for some time now, and recently joined
Apronista. I guess I have the fever, because now I want aprons!!!! I want to MAKE aprons. I want to WEAR apons.
I can't sew worth a lick, but by golly, I'm going to learn. How hard can an apron be, anyways?????

You've GOT to get over to that Apronista site! They are having an April Challenge, and we have to use vintage linens, fabric or anything vintage to make an apron. Right up my alley, for sure.

So far, this is the rough beginnings of my very, VERY first apron ever!!!!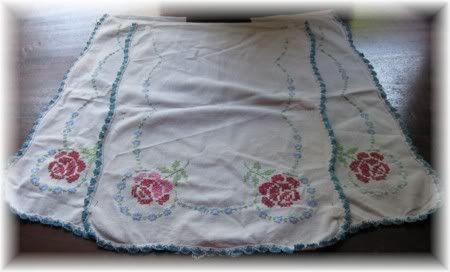 But please be warned: I'm all happy, smiles, and gung-ho right now. And I will keep you updated on my progress. . . . .BUT. . .the last picture you see just might be a wadded up bundle of fabric in the trash can!!!!!