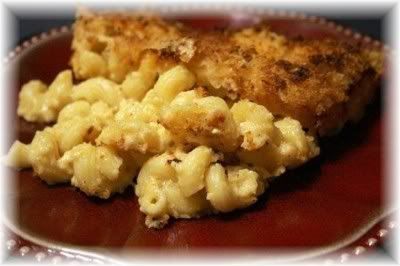 I was all prepared with my ingredients, suggestions, recipes, and tools. . . .went for my potatoes . . . .and they were rotten!!!!!! Since I tend to get crabby in the kitchen, I decided to save the day and come up with "Plan B."
I'm so glad I did, because it rated a "10" in my book!
I went with elbo macaroni. A big pot full!
Here's what I came up with:
1 can evaporated milk
1 cups water
1/2 stick butter
1 envelope of Pepper Gravy Mix (says makes 3 1/2 cups on the envelope)
Paprika
3 chopped onions sauteed in a little butter
cheddar cheese
2 cups left over ham
bread crumbs
Cook pasta til just done. Drain.
Mix the milk, water, and gravy mix in sauce pan, heat, and stir til thickened.
Fry onions till just clear (not browned) in a little butter or oil.
Add onions, ham, and shredded cheese to gravy mixture. (I eye-balled the cheese. I do like lots of cheese, though)
Mix in macaroni
Dump the whole mixture into 9x13 pan.
Sprinkle with bread crumbs
Put more cheese on the top
Back at 375 till cheese is melted and browning some.
This had to be the best I've ever made.
Buster thought so, too.
So the scalloped potatoes will have to wait until the next ham comes along!