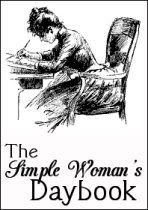 FOR TODAY (November 24, 2008)...
Outside My Window
It's a beautiful, Florida, sunny day today. It's been cold (at least for us Floridians!) the last few days, but today, it was in the 70's! The squirrels are gathering acorns, birds are scratching for seed under the Sycamore tree, and the huge leaves from that tree are scattered on the ground now, all brown and shrivelled up!


I am thinking. . . About how much better I feel! I seemed to bounce back after this #5 chemo treatment much sooner and better than I did with the others. I'll be so glad when #6 is done -- the last one. I am a little anxious about surgery. Don't know why. I was all gung-ho about it in June and July when I thought it was the first thing I'd have done. I'm wondering how long they will give me after chemo before scheduling it???


I am thankful for One million things. Things take on a different perspective and I see things from a different point of view this year as Thanksgiving approaches. I used to take for granted things like. . . .getting my mail, taking out the garbage, walking to my sister's house, making my bed, doing the laundry, cooking a meal, etc. Now???? I thank God for every good day I have when I can do some of these things, and I thank Him for my sister and brother-in-law who help me with what I can't do. I'm thankful for those who pray for me. I'm thankful for Buster who keeps me warm at night and who thinks I'm beautiful bald! I'm thankful for my sister-in-law's beautiful quilt that I snuggle in.


From the kitchen... Left over pot roast, egg noodles, corn.


I am wearing... LOTS of clothing. I've been cold for days!

I am creating... A grocery list for tomorrow.


I am going... Nowhere today.

I am reading... Cookbooks!!!! Don't know why. Guess I'm hungry again and with the holidays coming, I think I'd like a few special things. Chemo is Dec. 3, so I won't be wanting much for a few weeks after that, but then. . . .!!!!!


I am hoping... To get some cleaning done before next Wednesday. It's slow going as I lose steam pretty quickly.


I am hearing... Nice, quiet hymns playing in the background on my computer. Buster snoring behind me. Acorns rolling off the roof.


Around the house... Gathering up bags of garbage from my "cutting room!" Scraps of quilts, fleece, fabric, etc., have piled up to the ceiling and I need room in there. I filled one large bag and didn't make a dent!


A Few Plans For The Rest Of The Week. . . Visiting with my sister and her son who is here from NJ. Cooking a turkey on Thursday with all the trimmings. Haven't thought past that.


Here is picture thought I am sharing...


I think I will never get tired of turkey and all the good foods that go with it. It's comfort food for me with lots of memories of childhood, places I've been, homes I've been privileged to share Thanksgiving in, family, friends, etc. Thank you, Lord, for all you've blessed me with over the years!

______________

I'm so glad to be able to participate with the others in this Notebook entry. You can visit The Simple Woman's blog
HERE!