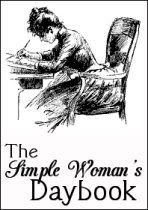 FOR TODAY (November 3, 2008)...
Outside My Window
It's a sunny, fall day, not like you get up north, but what we call "Fall" here in Florida! I really miss the vibrant colors of the trees in the northern states. I can remember as a kid bringing red, yellow, and orange leaves to school, putting them between wax paper, and ironing them so the wax would melt on the leaves, preserving the leaf and it's color. I had such creative teachers and we made cards with these leaves to take home for our parents! I was so proud to see mine tacked up on the door!!!! Here in Florida, oak leaves are turning brown and falling slowly, as are the acorns!


I am thinking. . . About seasons! How things change, come and go. . . how I've changed through the seasons of life, changing still. . . I hope for the better. Right now, I feel like my Sycamore tree outside my window -- leaves turning brown, shriveling up around the edges, but hanging on as long as possible!


I am thankful for This past week! An extra week to rest up, gain back some strength, eat some normal meals again. My taste has been so "off" with this chemo that my selection seems so limited!


From the kitchen... Some left over potatos augratin with broccoli, etc. Not enough left to have alone, so I'll have to come up with something to go with it.


I am wearing... Black slacks, maroon tee shirt, barefoot, bald head!

I am creating... Nothing! I saw some patterns for some primitive stitcheries that I would love to make, but right now. . . . it's all I can do to get done what I have to do.


I am going... Probably some grocery shopping, drug store, post office.

I am reading... Nothing. Can't focus or concentrate on anything. I think the name for it is "Chemo Brain Fog!"


I am hoping... I do ok with Chemo #5 this Wednesday. I made the decision to go ahead with at least one more. I'm feeling better, the breathlessness seems to be gone for now, and I worry more about the "what if's" if I DIDN'T get it than the "what if's" if I DID! So the scale tips towards getting the chemo!


I am hearing... Nice, quiet hymns playing in the background on my computer. Buster snoring behind me. Acorns rolling off the roof.


Around the house... Making a mental list of what I need to do before Wednesday. Wash bedding and clothing, make sure ebay stuff is taken care of, and any other housework I feel I can still do.


A Few Plans For The Rest Of The Week. . . Haven't really thought past Wednesday and chemo. I'll be so glad when all this is over with and life gets some sort of "normality" back to it. I feel like everything revolves around these chemo treatments. Not that I'm not thankful ---- I truly am, as the alternative seems very black and hopeless. These miracle chemos have saved so many lives (and probably mine, too), but going through it is sooooo hard. Strange how I've come to DREAD it, yet, don't want to give it up for fear it has not done it's complete job yet.


Here is picture thought I am sharing...


I've always admired the people who have participated in these walks to raise money for a cure for breast cancer. But you know, until you go through this yourself, you just don't know what it means. I used to wonder at the emotions shown at these events, but until you have gone through this yourself, or had a loved one or friend who has gone through it. . . . you just don't know. This past weekend, I watched as the news showed the 3 day walk in Tampa, FL. I have no idea how they walked that far, as I can hardly make it across my yard to my sister's house! I can only say a big THANK YOU to anyone out there who has given of their time, money, emotions, blisters, and tears for those of us who go through this thing. PLEASE, for your own sake, get your mammograms!!!!!
______________

I'm so glad to be able to participate with the others in this Notebook entry. You can visit The Simple Woman's blog
HERE!