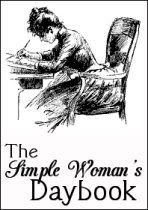 FOR TODAY (July 28, 2008)...
Outside My Window
8 wasps have decided to built a nest directly in the center of my window. They have been there now for about two weeks, and the process has captured my attention. Night and day, each has a specific job. The other day, a thunder storm knocked the small beginnings of the nest off the window. I was so encouraged within myself to see these 8 wasps begin all over again. I HATE wasps, but these 8 have been sooooo inspiring and encouraging to me to keep on keeping on!


I am thinking. . .That I need to buck up! I whimped out at the Cancer Center today as they stabbed me in the chest 5 times before getting that needle to work in my port! It was NOT pleasant!.


I am thankful for... My sister who has gone with me everywhere for these long, drawn-out appointments, sitting patiently with a book, and always encouraging me on! If she could do it, so can I!


From the kitchen... Ham tonight with sweet potatoes and brussel sprouts! One of my favorite dinners!


I am wearing... Tee shirt, black slacks . . . and, since I can't wear a bra, AN UNDERSHIRT! My sister suggested this, as she wore one after surgery for her port placement. And again, I'm barefoot! Guess this will be my uniform for the next few months! The undershirt thing has become quite comfortable for me. Very snuggie!!!

I am creating... More angels. Miriads of angels!


I am going... Post Office, Walmart, a bone scan tomorrow.

I am reading... Can't seem to focus right now. I don't know if it is the Arimidex pill that I'm on or the whole new life path I'm taking, but if it is more than a few sentences long, I'm LOST!


I am hoping... This Arimidex hormone blocker works for me. It sounds so promising in all that I have read. I'll have more questions about time expectations, etc., when I see my doctor again on Monday. I'm REALLY hoping and praying for good news concerning the scans, that they will reveal that the cancer has not spread beyond the breast tumor.

I am hearing... Three baby wrens being taught how to find seed under the feeder. What a LOT of racket out there.


Around the house... Dropped a brand new container of liquid fabric softener on the garage floor. I just couldn't deal with it at the moment, so closed the door, sighed a heavy sigh, and . . . .!!!


A Few Plans For The Rest Of The Week. . . Bone scan tomorrow. Haven't thought beyond that, really. !


Here is picture thought I am sharing...

"I Don't Know About Tomorrow"
I don't know about tomorrow,
I just live from day to day.
I don't borrow from it's sunshine,
For it's skies may turn to gray.
I don't worry o'er the future,
For I know what Jesus said,
And today I'll walk beside Him,
For He knows what is ahead.
Ev'ry step is getting brighter,
As the golden stairs I climb;
Ev'ry burden's getting lighter;
Ev'ry cloud is silver lined.
There the sun is always shining,
There no tear will dim the eyes,
At the ending of the rainbow,
Where the mountains touch the sky.
I don't know about tomorrow,
It may bring me poverty;
But the One Who feeds the sparrow,
Is the One Who stands by me.
And the path that be my portion,
May be through the flame or flood,
But His presence goes before me,
And I'm covered with His blood.
Refrain
Many things about tomorrow,
I don't seem to understand;
But I know Who holds tomorrow,
And I know Who holds my hand.
______________
I'm so glad to be able to participate with the others in this Notebook entry. You can visit The Simple Woman's blog
HERE!