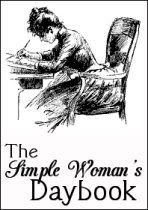 FOR TODAY (July 14, 2008)...
Outside My Window
I'm noticing how tall my Sycamore tree has grown and how wide it's branches are this year. It's been just a few years since it was planted there, needed a little stick to hold it up straight and tall! Now here it is, giving beautiful shade on hot, sunny days, and shelter for all my little birds.


I am thinking... About tomorrow. I see the surgeon tomorrow, will hear the results of the biopsy, the plans for surgery, etc. The song goes through my mind,

"I don't know
About tomorrow
I just live from day to day
And I don't borrow from its sunshine
For its skies may turn to gray
And I don't worry about my future
For I know what Jesus said
And today He walks beside me
For He knows what lies ahead
Many things about tomorrow
I don't seem to under-understand
But I, I know, I know, I know who holds tomorrow
And I know who holds, who holds my hand.


I am thankful for... So many loving, praying friends!


From the kitchen... Pancakes the size of manhole covers! Thought I would try to lose a little weight. . . . . tomorrow.

I am wearing... A REAL blouse! (what can I say??? since I can't wear a bra, the tee shirt had to go!), black slacks, barefoot!

I am creating... Lots of piles! Piles of coordinated fabric to be cut, piles of quilts to be cut, piles of garbage to go out, piles of wash to be done, etc.

I am going... Post office with lots of packages to mail.

I am reading... Way too much online about breast cancer, rates of survival, treatment plans. . . I know more than I ever wanted or needed to know, but feel I know nothing.


I am hoping... I have the courage and strength to go through the next few months! I'm feeling this more as each day goes on.

I am hearing... QUIET!!!! I just LOVE it when Buster is sleeping and the cat is sleeping at the same time!

Around the house... The lawn needs mowing. It has rained so much after a long, dry drought, so I hope the rain holds off long enough to get it mowed. Otherwise, we will need a hay baler!

A Few Plans For The Rest Of The Week. . . I haven't thought past tomorrow! I'm sure this surgeon is planning out my life for me. But I am trying to tie up all loose ends with Ebay and getting everything mailed out just in case surgery comes sooner than planned.

Here is picture thought I am sharing... "Commit thy way unto the LORD; trust also in Him; and He shall bring it to pass." -- Psalm 37:5.

I'm searching my heart to find if I REALLY trust the Lord with what is around that bend in the road and that He will walk me through it. . . . .




______________

I'm so glad to be able to participate with the others in this Notebook entry. You can visit The Simple Woman's blog
HERE!