Sometimes a song comes along that just seems to pull you up by the suspenders, gives you a good slap on the back, and a tight squeeze and a hug -- and it makes you look inside of you again and. . . . . sure enough, there is a HERO inside there somewhere!!!!

I sat in the waiting room and felt like maybe this was just Heaven's waiting room. LOTS of VERY sickly, sad, and depressing looking people, just waiting to hear their name called, and then then disappeared behind big doors. Maybe Heaven was back there somewhere, just a few steps away.. . . and then MY name was called! As I passed through that big door, I knew for sure it couldn't be Heaven, believe me. But I did see these sad, sickly, depressing people differently --- they were heroes --- every one of them -- as they sat in those recliners getting their chemo treatments. They certainly found heroes inside of themselves as they came back day after day, week after week. . . . fighting, hoping for just another win in this awful battle!

Today was NOT one of my best days in my life. Maybe emotionally, it was the worst. No. . . . I didn't break down, I wasn't really nervous, nor did I cry. I say it was emotionally my worst day ever because I can't seem to work up ANY emotions at all. I'm wondering if I'm even normal. The Dr. sat there staring at my face waiting for reactions, I guess, and I just had NONE!

I don't know much more than I did the other day --- only more of a confirmation that my worst fears are right. He did say, "most definitely you have advanced cancer, I don't need a biopsy to tell me that!". When I asked was I in big trouble, he did say, "Yes, you are in big trouble here." And when I asked, "Now what?" He said, "I don't know yet what I'm going to do with you."

He poked, prodded, pushed squeezed until I was sure the whole tumor would probably pop out into his hands. That was bad enough, but when he started under my arms, I thought I would die!

He did say that my lungs sounded fine to him, that the other Dr. must have had wax in his ears! That was the only good thing I heard all day.

What's next? The biopsy on Tuesday WITH the added pleasure of having a port put in while I'm under for chemo down the road. Also, CT scans, bone scans, etc., because he wants to know where this has all spread to. And the biopsy will tell him what KIND of cancer we are dealing with.

So that's that!

Years and years ago, I used to go with my Dad to see my grandmother. She was in her 90's at the time, suffering from arthritis so badly, but just as sweet and loving as a woman could ever be. There was such sadness in her eyes as the love of her life had gone home to Glory some years before. Before we would leave her, she would always ask my dad to please sit at the old organ and play her hymn. And to this day, I can't help but get that huge lump in my throat as I can still hear my Dad and grandmother singing "Be not dismayed what e'er betide, God will take care of you." My Dad with his rich base voice, my grandmother with her still sweet alto voice singing in Dutch --- somehow I just know they are still singing together in Heaven.

You just never forget those old hymns, do you?

Be not dismayed whate'er betide,
God will take care of you;
Beneath His wings of love abide,
God will take care of you.

God will take care of you,
Through every day, over all the way;
He will take care of you,
God will take care of you.

Through days of toil when heart doth fail,
God will take care of you;
When dangers fierce your path assail,
God will take care of you.

All you may need He will provide,
God will take care of you;
Nothing you ask will be denied,
God will take care of you.

No matter what may be the test,
God will take care of you;
Lean, weary one, upon His breast,
God will take care of you.

I can tell you this much. . . there would be no hero in me were it not for my absolute faith in a Sovereign God who has everything in His control. Who can help but be a warrior and a hero when HE ALONE is in charge of the battle in front of you?
So many of you have walked this road and have told me your stories and you are my heros. Thank you for your encouragement, for pushing a warrior's sword in my hands, and giving me the confidence that YES! I can fight!

And thank you, my dear, dear sister, Juri, for fighting your battle, for being my hero, for sticking to it to the very end and winning, and for being willing to walk with me into that same battlefield!!! How can I ever thank you???

-----------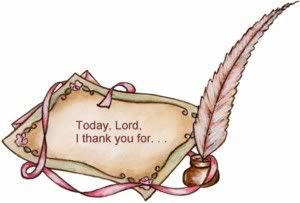 For these things, I thank you, Lord:
62. All the heros that have won before me!
63. My sister, Juri, who can laugh, cry, hold me up -- all at the same time!
64. Loving friends and neighbors who pray for me.
65. Old hymns and new ones that say what the heart wants to say.
66. Cool, refreshing breezes and a gentle rain this evening!
67. Peach Ice Tea, a rocking chair on my porch, a dog at my feet, and a mockingbird who just doesn't stop singing, in spite of the thunder and the rain!