You know those ads on TV about the Verizon Network that supposedly follows you all around after you buy one of their phones????? You see that HUGE group of workers, technicians, trucks, etc., following you down the street, ready to help you and fix anything that goes wrong.

Well, I just felt like I had my own personal "network" following me around today. And it was ALL OF YOU! I just knew that wherever I went, whoever I spoke to, whoever I had to call, etc., that you were all there, backing me up with prayer, faith and love. And I wouldn't exchange my network for any phone company in the world, believe me!

My sister tromped around all day with me, and I'm so thankful that she is there. She knows what questions to ask, we could laugh together, compare notes, analyze body language of Doctors and nurses who aren't supposed to tell you anything. . . . and of course, we had a HUGE lunch together to celebrate the beginning of this . . . . journey!

This doctor that I saw today was only supposed to look at the mammogram results and set up a biopsy for me. It was understood that he was not taking my case on. He asked me a million questions, poked, prodded, squeezed squished, and pushed on everything ---- never changed his expression, lifted an eyebrow, sighed or even breathed!!!!!

When I got dressed and went to his office, he told me he couldn't hear any air in my left lung (same side as the tumor) and was ordering a chest xray. Also, he ordered complete blood workup and the biopsy stuff. So, after getting home, I started making the calls I had to make to line this all up. After going through 2 phones and running them dead, recharging, etc., I get a call from this Dr. saying he lined it all up for me and that the results would come back to him.

When I called the lady in charge of the program, she said she just about fell out of her chair because he had told her he wasn't taking any more of "her ladies." But . . . he's taking ME!

And. . . . . I get to have the same oncologist and cancer treatment group that my sister went to . . . . and they have a center now just 2 miles from my home. I have a consult with this guy on Thursday, and the biopsy will be done Tuesday. So in reality, I STILL know NOTHING definitive, but I feel that least I'm in the hands of some pretty good Doctors.. . . . to say nothing of "the network" of people that prayed for me all day. . . . and how the Lord heard all of your prayers and worked all this out for me!

This Doctor today was "convinced it is advanced cancer that is spreading." That's all he would say. The x-ray of the lungs . . . . the girl would not tell me what she saw. So I know NOTHING! I guess after the biopsy comes back I will have more to report.

Until then, I just want to thank each and every one of you who have been walking behind me, next to me, in front of me, holding me up in prayer and caring and loving me so much!

I didn't sleep much last night. This was all on my mind. But the Lord gave me a verse today as I sat here, all tired and worn from my running around. I hadn't thought of it in so long, but there is was:

I will both lay me down in peace, and sleep: for thou, LORD, only makest me dwell in safety. -- Psalm 4:8

I'm not saying here that I'm the bravest gal in the world. I'm not! Someone asked me this week if I was scared. I am! To some extent anyway. I'm scared of that needle biopsy. I don't like pain. I don't want a port. Let's face it. . . . who walks into this type of thing with smiles and a happy face????? And I'm not a brave person, either.

But. . . I DO know where my faith lies. And it is NOT my faith that will carry me through, but rather, WHO my faith lies in. And the verse above says it all. It is NOT a doctor or cancer center that I trust, but rather the LORD only and HIS will for my life. He has a plan for me. So I might as well get some sleep tonight, knowing that the Lord is at the head of "my network" and all of you are praying for me! Thank you!!!!!!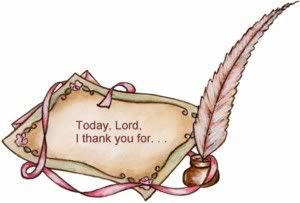 For these things, I thank you, Lord:
56. Such a great group of praying friends!
57. That there are still caring people in the medical and professional world!
58. Great greasy lunches out and a sister to share them with.
59. God faithfulness through all these years.
60. Scripture verses I learned as a child that somehow come back when I need them!
61. Buster!
--------