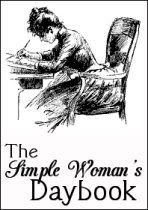 FOR TODAY (July 21, 2008)...
Outside My Window
The sun is setting in the west, casting colors across the sky that are so beautiful. I see a few crows flying . . . home???. . .
and the last of the cardinals having a late night snack before calling it a night.


I am thinking... Way too many thoughts. My mind seems to never stop, jumping from one thing to another and another. It's hard to concentrate lately.


I am thankful for... My two sisters!


From the kitchen... The best ever yellow squash patties. I don't know who had them posted on their blog, but if you see them in your blogging trails, copy that recipe. Boy, were they ever good!


I am wearing... Tee shirt, black slacks . . . and, since I can't wear a bra, AN UNDERSHIRT! My sister suggested this, as she wore one after surgery for her port placement. And again, I'm barefoot!

I am creating... More angels. Miriads of angels!

I am going... Nowhere. I've become a real homebody.

I am reading... A whole lot about my type of cancer, about foods that have estrogen hormones, about things I need to stay away from. Scarey stuff out there that has been added to food!!!


I am hoping... This new drug works for me. It sounds so promising in all that I have read.

I am hearing... My air conditioner running. It was soooo HOT today.


Around the house... Does the laundry never get caught up? There are only two of us and I seem to be doing so much wash lately!!!!


A Few Plans For The Rest Of The Week. . . The only thing on my schedule for this week is a trip to the vet for Buster to get his shots, and to get his ears checked. He's flapping those things around pretty hard, so I guess it's ear mites!


Here is picture thought I am sharing...

"God will make a way
Where there seems to be no way
He works in ways we cannot see
He will make a way for me
He will be my guide
Hold me closely to His side
With love and strength
For each new day
He will make a way
He will make a way

By a roadway in the wilderness
He'll lead me
And rivers in the desert will I see
Heaven and earth will fade
But His Word will still remain
He will do something new today"
--Don Moen
"This is the way. . . . walk ye in it!"
______________
I'm so glad to be able to participate with the others in this Notebook entry. You can visit The Simple Woman's blog
HERE!