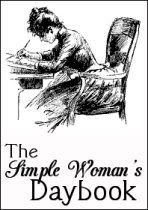 FOR TODAY (September 15, 2008)...
Outside My Window
It's a beautiful morning, sunny, with a little breeze. Starting to feel a little cooler in the mornings now -- a relief after a hot, muggy summer! Some leaves are starting to fall, too!


I am thinking. . . I can't believe almost three weeks have past already since my last chemo treatment and that #3 is just a few days away. I get knots in my stomach just thinking about it. It's one thing to wake up one morning and discover you are sick or something. It's another thing to KNOW that in a few days you will feel like death warmed over and have to plan for it!!!


I am thankful for... Loving and praying friends and family. My sister's chili. All the cards and gifts I've received. .


From the kitchen... Don't have a clue yet. I have a full freezer, so I'll be opening the door in a while, standing there staring, hoping something jumps out at me. Maybe meatloaf?.


I am wearing... print tee shirt, black slacks, barefoot!

I am creating... Ideas on how to get through this day, and the rest of my life of chemo treatments! If each one is worse than the next, I wonder if I'll make it through this next one. It seems that I tire out so easily lately and have to plan things out so there are breaks in between. I hope I can get some idea from the Dr. Wednesday as to how many more I'm going to have to have. I would at least like to have some idea as to how far down the road the end is.


I am going... Probably to the post office, drug store, and grocery store.

I am reading... Remember those little, daily flip calanders that were so popular in the early 90's???? I was addicted to them and still have about 40 of those things. Since my concentration level seems to only reach the span of about 1 or 2 sentences, I've dug a few of these out and reading them. So many great, encouraging verses, prayers, quotes, etc. I even have one in the bathroom to keep me company there!


I am hoping... The pills the Dr. prescribed will keep the dark days at a minimum this time. That was NOT a happy experience at all! But at least I know what caused it and am prepared this time!


I am hearing... Cardinals, Titmice, and Chickadees chirping at the feeder.


Around the house... Why is it there is ALWAYS laundry to do???? And I'll be cutting away on quilts, etc., so Patsy is well stocked up for sewing and stitching during that week I'm down for the count!


A Few Plans For The Rest Of The Week. . . Stock up on what I can eat next week, Chemo on Wednesday, change sheets and have a spare set ready for changing after a night of the sweats! Make sure all orders are mailed out.


Here is picture thought I am sharing...


This morning, Buster alerted me to the fact that there were sqirrels in the backyard stealing our acorns. It's been so much fun to watch a momma sqirrel build her nest in my birdhouse and see those little heads peeking out now and then! Watching her collect acorns, eating some, burying some, and taking some home has been great. I always rattle the door a little before letting Buster chase her off ---- she knows the sound and heads up the tree with her nut, leaving Buster totally bewildered!!!!
______________
I'm so glad to be able to participate with the others in this Notebook entry. You can visit The Simple Woman's blog
HERE!