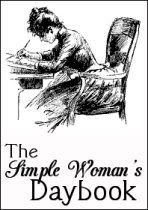 FOR TODAY (September 22, 2008)...
Outside My Window
It's cloudy, a little cooler than usual -- what a blessing! Leaves are slowly starting to fall, berries are turning purple!


I am thinking. . .I hope it doesn't rain as my sister is getting a new roof put on her home.


I am thankful for...A SHOWER!!! Had to sit, but I did it! Loving and praying friends and family. Emails that are so encouraging! Especially thankful that this chemo treatment seems to be going ok so far. This is day #5 since I got it. I'm very tired and wear out easily, but other than that, I'm doing ok. It seems that the key is preplanning everything!


From the kitchen... Patsy made some egg salad for sandwiches. Meatloaf is on the menu for dinner. Great for left overs later in the week. I think I'd like a plate full of mashed potatoes!


I am wearing... loose tee shirt, black loose slacks!

I am creating... At least TRYING to create ---- a better plan for getting things listed on ebay during these "Chemo days" and getting them shipped when they are sold. Wouldn't you know, sales were very light duing my "up" days, and now all of a sudden I'm swamped with sales. I'm NOT complaining, believe me! I'll work around it, for sure!


I am going... Nowhere today! Can hardly make it out to the porch with Buster!

I am reading... Remember those little, daily flip calanders that were so popular in the early 90's???? I was addicted to them and still have about 40 of those things. Since my concentration level seems to only reach the span of about 1 or 2 sentences, I've dug a few of these out and reading them. So many great, encouraging verses, prayers, quotes, etc. I even have one in the bathroom to keep me company there!


I am hoping... The pills the Dr. prescribed last time are helping a lot, including the Prilocec for the awful brick in my stomach. That's two hurdles out of my way this time, making things easier. I'm hoping the rest of the week is better each day!


I am hearing... The constant sound of power nailers on my sister's roof. Buster has decided it's not for him to worry about. I just heard a BIG sigh behind me as he finally fell asleep. He thought this was something HE had to take care of!


Around the house... STILL doing laundry! Since I seem to SWEAT so badly with this chemo, I'm changing sheets, pillow cases, clothing, constantly! I need an ice bed!


A Few Plans For The Rest Of The Week. . . Nothing much! Right now a plan might include how to get through taking a shower without caving in.


Here is picture thought I am sharing...


I was raised long ago in a church that sang all the "old", slow, ancient hymns of the church. As a child, I stood beside my father, sharing the hymnal, and listening to his rich, deep, base voice sing out those hymns, and sometimes he would point to the words in the book as we sang along. I learned the tunes, even the words, but it seemed the meanings were too deep for me to understand, and I got tired of standing through 4 or 5 verses of the same hymn. Later on, as I learned my Bible, what the Lord had done for me, and what it all meant, those hymns became more and more precious.
The photo above makes me think of "The Solid Rock", a song we sang so frequently. There is a verse in that song that says, "When darkness veils His loving face, I rest on His unchanging grace." There have been days of darkness for me recently. Days when I wanted to give up. Days when I thought I couldn't go through any more. Yet, even though I could not see His face, He was there, sustaining me with that unchanging grace, getting me through step by step. My Dad was a testimony to that fact -- that though he could not see Him on the darkest of days, God's Grace was there to get him through.
The version of that hymn that is playing now would raise the hairs on my Dad's neck, as he was from the old Dutch Reformed, with slow, somber heavy hymns. But the words are still the same and the meaning never changes, does it! Hope you enjoy!
______________
I'm so glad to be able to participate with the others in this Notebook entry. You can visit The Simple Woman's blog
HERE!