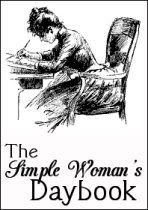 FOR TODAY (September 3, 2008)...
Outside My Window
The sun is up, the birds ar at the feeder, and it looks like it will be a beautiful, warm, sunny day. The 8 wasps that had been so faithful to their nest building finally gave up after all their labors were dashed to the ground. . . again! The damp, smooth window pane proved not to be a good foundation after all. With all the rain and wind of the past week, it fell and they have not been back.


I am thinking. . . It's a good thing I did not do this post yesterday. Yesterday had to be the darkest of all days in my life, and the culmination of a week of chemo misery. I was so tired and weak, started the day with a terrible migraine headache, along with a thousand other petty, and what seems now insigificant whinings and complaints. But I felt I was never going back and would just go on to whatever end "nonchemo" would take me to. It was just too much for me. I couldn't stop the tears all day. I was beyond crabby. . .I was defeated.


I am thankful for... Another Day!!!! A good night's sleep. Sherbet. Buster kisses in the morning, forgiving me for yesterday.


From the kitchen... I feel like a bowl of hot cereal with raisins in it. Maybe Wheatena! Haven't had that in years and it sounds good with butter, brown sugar, cinnamon. . . .!.


I am wearing... Not dressed yet. A pink knit, soft nightie!

I am creating... Ideas on how to get through this day, and the rest of my life of chemo treatments! If each one is worse than the next, I'm not sure I can face any more of this. If there is a pill that will just let you sleep for 7 days, I need to find it!!!!


I am going... Nowhere. So far, I've made it to the porch to let Buster out. He sooooo does not understand! He thinks if he brings me all his toys that this will make me feel better. I say he doesn't understand, but there is this cute little wrinkle on his forehead and he sits there with me and lets me pet him -- something new since usually he runs 100 miles an hour and NEVER stops for anyone!

I am reading... Nothing! My eyes won't focus right now.


I am hoping... I can crawl out from under the this dark rock. I'm not the most bubbly, up, outwardly joyful person. Those who know me well would call me quiet, more on the "meloncholic" side of life. I was born that way and it's an even keel for me. So when I have a "dark" day, believe me, it's BLACK! If how I feel right now is any indicator of how the day is going to be, then that prayer is answered because I feel so much better!



I am hearing... Buster snoring under my feet. "Uncle Bob", my BIL, graciously came over last night and ran with Buster until both them caved in. Not sure who flopped first. But I do know Buster had a GOOD night's sleep and seems to want to continue!


Around the house...There is so much to do. But it will all have to wait a few more days. I will do some wash, though.


A Few Plans For The Rest Of The Week. . . Tomorrow is my "mid Chemo" Dr. appointment at the Cancer Center. I really don't want to go. Don't know what to tell him. I feel that all I do is whine and that the things that totally took me down a few days before sound like pettie, snibbling, whining complaints. But at the time, it's all I could do to find the bed and cover my head with the sheets and blankets and pray for the end of my life!!!!.


Here is picture thought I am sharing...


Yesterday, while crying in my pillow and wishing I were dead, a little chorus to a hymn we used to sing in church years and years ago came to my mind. It would not leave me, and once again I realized it was not MY battle. It is only through HIS grace that we are victorious. Whatever your battle is today, and no matter how dark your day might be, or how far back in the race you have lapsed, God is with you, the victory is His, and He wraps you in the winner's flag of grace!
Not to the strong is the battle,
Not to the swift is the race,
But to the true and the faithful
Victory is promised through grace!
______________
I'm so glad to be able to participate with the others in this Notebook entry. You can visit The Simple Woman's blog
HERE!