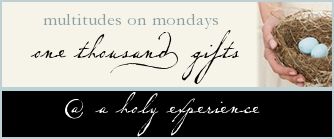 Looking unto Jesus the author and finisher of our faith; who for the joy that was set before him endured the cross, despising the shame, and is set down at the right hand of the throne of God. -- Hebrews 12:2

I continue to look for gifts and blessings that the Lord continually sends my way, and in doing so, it ultimately lifts my eyes to Him, who gives us all things freely. Join with me as I share all that I found this week. . . .

226. Watching a group of vultures pull a dead animal off the road into the yard. They begin to pull, peck, rip while two stand back and guard their dinner. Oh Lord, please don't let me die outside!!!!! I don't want to be plucked apart like that!!!! It's amazing, though, how quickly they can clean up the mess.

227. Bean plants sending out little twiney thingies looking for sticks and things to climb. It was a slow start, with some having to be replanted, but now all look healthy and promising for lots of beans!

228. Waking up to thunder and a slow, drizzly rain.

229. Birds who seem to have gotten used to being wet and just shake it off.

230. Baby squirrels peeking out of their houses with long faces as rain pours down around them.

231. Buster at my feet, head on the window sill, thinking abut rain. .. More rain!

232. Coffee. The sounds a pot makes when it's DONE!

233. A down day and then the encouragement with a question: Why art thou cast down, O my soul? and why art thou disquieted within me? hope in God: for I shall yet praise him, who is the health of my countenance, and my God. Psalm 43:5

234. Disappointment. Learning that when He says No does not mean He does not love me.

235. A lap harp, of all things!!!! I may never be an accomplished musician, but this I figured out in minutes! Delusions of grandeur???? The best part is the eagle! A hand-carved eagle in the middle of this. . . Thing! A few years ago, as I journeyed through the valley of breast cancer, a dear friend constantly reminded to rise on the wings of eagles. It had boiled down to one word "WINGS". That's all she had to say, and I knew. . .! So today, I'm reminded again that if I just wait on the Lord, I shall rise up on the wings of eagles.




236. The cry of peacocks in the distance. The sound carries on a cool, clear spring night.

237. Early morning rays of sunlight shining like little spotlights through the trees on bright pink roses.

238. Shivery cool sunny morning after days of cloudy rain.

239. Choices I CAN make that CAN make a difference in my day: like joy instead of irritableness, trust instead of worry, others instead of self, smile instead of frown.

240. Acceptance of things I CANNOT change, knowing they come from Him -- and what comes from Him will always be for my good.

241. Never tiring of the thought of grace. Grace that brought me safe thus far. . .

242. The smell of a roast cooking in the crockpot. Even better when it's the free one. 243. You know, the "buy one get one free" deal. Some divide up the cost, making each half price --- me??? I like thinking one was FREE! It tastes better somehow that way! And since this particular one has jumped out of the freezer and hit my toe one too many times, it HAD to go!

244. The smell of potatoes as I wash them. Like earth. Brown, wet dirt. Like just-dug-up fresh potatoes.

245. Sound of motorcycles going down my street. A reminder to pray for my pastor and all that is going on in his life right now.

246. "See how big the tree has grown. . ." Couldn't help but notice that a tree I had planted as a stick a few years ago just took off like there's no tomorrow! Just beautiful!

247. Wisteria vine all lush and plump after shedding its blooms. And did I never notice before. . . Hundreds of little "beans" or pods hanging on the vines. Too cool!!!!

248. Talking with big sister on Skype! Isn't that just the best thing??? -- Who would have ever thought that we could sit and see each other, talk --- for free!!!

249. The sound of Amazing Grace in the background. Never get tired of hearing it. Grace. . . For ME! Always more. . .Always amazing!

250. Coffee with my nephew. Always so good to see him again when he comes to visit his Mom.

251. Buster's excitement when I bring in the mail. Didn't know why, until I saw a little package from Nancy. Buster just knew. . . . And so did I. We ripped it open together and there was a new toy (which is now named, "little toy") and some chewies. Nancy has been Buster's "pen pal" since I got him, sending handmade blankies, toys, and most of all, her love and encouragement and confidence that he would make it through puppy hood. He has carried that "little toy" all over the place, slept with it, slobbered all over it. Love it!

252. Bags of trash in the dumpster. How in the world do I make so much trash???? One thing nice about living out in the country --- nice big dumpster. We share one with four families, and it makes getting rid of "stuff" so much easier.

253. Sharing a crisp, sweet apple with a friend.

254. Watching little eaglet hatch. I've been following this live cam for weeks, and #3 has hatched. I was cheering him on and was just amazed. The end got me, when Momma so gently nestled down on all three of her young un's. Alone, way up there in that cold wind -- there was a tenderness there, and I felt myself under the wings of the Almighty, all safe, warm, and protected from storms. I've watched her get rained on, snowed on, heard the wind blowing through her feathers, but there she stays, always, always all for her babies!!!

255. Fellowship with hungry believers at Thursday Night Bible Study.

256. A Pastor whose passion is to teach God's Word so his flock will never be deceived and led astray.

257. The person who brings all the bakery goods left over from the local grocery store. All the wonderful breads, pies, pasteries, cakes, etc. It is such a blessing and help for those who are struggling in these hard times. For me tonight? I broke down and brought home a sugarless blueberry pie.

258. Sounds of the washing machine going through it's cycles.

259. In reorganizing my cupboards, I realize how blessed I am with extra food -- always more than enough. I am so guilty of complaining of "having nothing to eat." Forgive me, Father, when there are so many right now going hungry.

260. Cucumbers that seem to be growing before my eyes!

261. Leftovers. No cooking tonight. Leftover potroast, baked potato, and green beans from my garden that I froze last summer. Just too good!

262. Learning a new song. "Paint your Picture" was playing on someone's blog last week as I made the rounds of gratitude lists. To me, it was one of those songs that just doesn't leave you. If I've listened to it once, I've listened a hundred times. If you've gotten this far in reading my list today, you've probably already heard it playing.

263. Discovering a bird's nest built right under my nose in some old, dead vines. I was getting ready to pull them all down. . . . I just can't!!! It's so tiny. . .!!!

264. Finding a way to help someone in need!

265. A friend helping me peel mountains of potatoes for potato salad tomorrow.

266. A big, meaty sub for lunch. Haven't had one in what seems like ages. It's been yogurt and a little cereal for a million lunches in a row. I wanted real food just once!

267. Smiles from a happy bagger who pushed my cart and loaded my car.

268. A most beautiful necklace found in my mailbox. A ribbon. . . A pink stone. . . All surrounded by the engraved words, "By Grace Alone." God's Grace gift appropriately arriving on the two year anniversary of finishing treatments. A forever reminder that it IS by His grace alone that I am here, that I have today -- another day to see ALL His grace gifts poured down on me! Thank you, Lord!

269. The privilege of blessing someone -- only to be blessed so much more in return.

270. The absolute joy of hearing Ella Mae sing, "Tell it to Jesus." How often do you get to hear a 90 year old, frail little lady sing??? I don't think there was a dry eye in the church tonight. She walked slowly up to the piano with her walker, sat on the bench, picked up the microphone, and just . . .sang! I'll never forget it.

271. Marty! A moment in time to give and receive a hug -- a moment in eternity as I saw Jesus in his eyes -- a moment of sharing a vision, seeing what he sees, seeing the next step.

Every week, hundreds of "gift counters" gather together at Ann VonKamp's website, A Holy Experience, and post their links to their weekly lists of gifts. It's an awesome experience to read all of these. It becomes a contagious thing -- this gift counting. And I always go away smiling with a heart that is lighter and a song on my lips. Join us, won't you? Just click the link below: