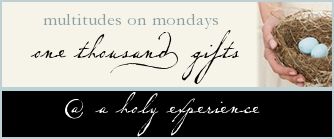 Continuing with another week of living in the present moment and seeing all the gifts that God has rained down upon me:

272. Encouragement from a friend in an email. Nothing like a good morning pick-me-up.

273. Unsually chirpy birds. Especially the flycatchers. They sound like police whistles out there.

274. Crab cakes! A gift sent to us --- the best Maryland crab cakes there are. HUGE ones with great big lumps of crab. A dream come true. Thank you, Jackie!!!





275. Reading other bloggers' lists of gratitudes. There just isn't anything more uplifting than joining into others' thanks. Some hard, some precious, some funny, some priceless, but all of it is soul food!

276. Pea soup. Homemade. My sister made a crock pot full and gave me a quart for tomorrow's lunch. My favorite soup ever!

277. Tiny, little green beans appearing on my plants.

278. VERY busy birds building nests in the birdhouse. And argue???!!!! One brings straw and grass or whatever, the other throws it out (not good enough, I guess), they fuss at each other for a while, then the other goes off for more stuff. I didn't know birds needed marriage counseling!

279. Spring breezes -- branches always swaying, leaves moving -- there's a gentleness about it all.

280. The beginning of a website for a friend and his singing group. He asked. . . I said I would try. . . And it's working and coming together so far. I really had no idea why I said yes . . . I never did this before.

281. Finding a way to help someone in need.

282. Taco salad for. . . Late lunch/early supper. Just too good!

283. Hope. It's a word I've thought a lot about lately. You don't really think about it until you have none. Or think you don't. This past weekend, I saw hope in someone's eyes -- and it moved me tremendously. I haven't forgotten it, either. I'm trying to think if I have EVER seen this before. People have expressed their hope verbally, or I have seen things done in a hopeful spirit, etc. But to see it in someone's eyes. . . I will not soon forget that.

284. A doctor who cares and listens.

285. A reminder of God's guidance: "And thine ears shall hear a word behind thee, saying, This is the way, walk ye in it, when ye turn to the right hand, and when ye turn to the left." Isaiah 30:21

286. Sounds of motorcycles riding down the street.

287. Cool, brisk spring morning.

288. Finding Mrs. Cardinal all honkered down on a little nest built in dead vines on my porch. Now I can't take them down until she's raised her family!!!!

289. Hearing Mr. Cardinal sitting on a branch a few feet away singing to her. How sweet is that???? A real love song!

290. Picking the first green beans of the season. Just enough for supper.




291. A new veggie I've never eaten before. Beet greens. Since there were NO beets, it seemed such a waste to have those beautiful reddish green leaves go to waste. So I looked up a recipe to see if they were really edible, and sure 'nuf, they are! Some bacon, onion, garlic, apple juice, throw in the greens, and . . . . Oh my!!! Of all the greens I've eaten, this has to rate up there as the all time best. Sweet, tender. . . . Just yummy!



292. Watching Buster gobble up his dinner of "fishies." When I got him at 8 weeks old, the guy told me he had been raised on canned mackerel, that it's full of all the oils, Omega-3 stuff, and everything that's good for a dog. So since he loves it, I've continued. Not every day, but maybe once a week. He can find the red can in the cupboard. Fishies to Buster is like Prime Rib to me!

293. Bible Study tonight. What a pick-me-up! The happiest bunch of Christians I've ever met.

294. The old hymn, "Oh Love that wilt Not Let Me Go." In thinking of Easter approaching, there is such peace and hope in knowing beyond any shadow of doubt that the Love that held Him on the Cross is the same Love that holds me for eternity.

295. Green beans. I picked enough for supper. All perfect. That struck me. Mainly, because the last bunch I bought at the grocery store were full of bad spots, some a little "rotty" , etc.

296. Buster's response to, "Let's go do the beans." Nothing makes him happier than to stick his big brown nose into those beans to see what I'm picking. He loves them raw.

297. Grocery shopping. . . Not that I like the task that much, but that I'm able to do it. I never thought about it much until there was a time when all I could do was about 2 aisles. I think of that now as I rush up and down those aisles, push a heavy cart loaded with big dog food bags, potatoes, detergent, etc. And that's only the half --- the other half is getting it in and put away. I have to really stop and remember push the "thank you" button for being able to do that. It's kind of hard when Buster is pushing his way between my legs to check every bag for something for him.

298. Watching a Blue Jay pull off a new oak leaf and jam it into a nest ---- right over my head. How in the world did he sneak that nest building right under (or above, I should say) my nose???? I now have a cardinal, flycatcher, wren, and blue jays all settling in and planning families.




299. A shirt full of teeny weeny kittens. We don't need more kittens, but there they were. I picked them all up, made a little "sling" out of the bottom of my tee shirt, and I just looked into those eyes. It's always the eyes that get me. . ..

300. Peeling another million potatoes and boiling eggs for Sunday night supper after church. I'm becoming a pro peeler!
301. Grace that is always greater than my sin. Like my faucet washing them all . . . . Away. . . Gone . . .down the drain. . . Can't get them back.

302. Incredible Sunday morning service! Pastor's sermon was from Jeremiah, where God promises the eventual end to the old covenant of law and lists and the priesthood who would give and interpret the law, etc., and the new law which would be written on our hearts with the forgiveness of sins and how He would remember our sins no more. I remember being about 20 years old and in my third year at Bible school. Law and Grace was the class. A whole semester of studying law and grace, Galatians, Romans, and all that went with it. I didn't get it. Little by little, over many, many years, I finally got it.
Why couldn't I have heard this 20 minute sermon 40 years ago???? Thank you, Lord for a Pastor who can give understanding to the simplest of people ---- like me!

303. And all those who finally got it and who knelt at the altar and were freed from those horrible lists and laws and rules and struggles of trying on their own to make it into Heaven!!!

304. The cross. That it still has the power to reach anyone and cleanse sin.

305. That He remembers them no more! If only I could forget them like He does!

306. Watching a small child walk up to the band in church holding her harmonica and joining them during the song service. Didn't matter that she really can't play. Didn't matter that she just played one note. The joy on her face lit up mine --- and everyone else's!

307. New life. First baby cardinal has hatched. You would have thought I had a baby myself!!!

308. To hear God's whisper of "Peace! Be still" to the troubling, churning waters of my soul.

309. Jello. That good old stand by that's all jiggly, clear and clean looking with chunks of pineapple and manderin oranges. I forgot about jello. Hadn't made it for years!

310. Learning the historical meaning of Easter. I had no idea it all came from the worship of the goddess Oestra. She found a wounded bird, and with her powers, it turned into a giant rabbit. This rabbit made Oestra angry and she didn't love it anymore. The rabbit went away, but came back once a year. On that day, he moved through the land very quickly, laying colored eggs all over the place (remember, he used to be a bird!). Later, as Christianity spread, they changed the name to Easter, and incorporated some of the practices of easter egg hunts, bunnies, etc., into our Resurrection day. So now you know the rest of the story!

If you would like to read the lists of others who are journaling their graces and gratitudes, click here: