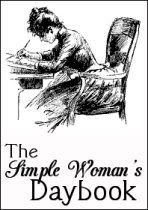 FOR TODAY (October 20, 2008)...
Outside My Window
It's a sunny, cool, breezy day. Oak leaves are turning brown and falling, as are the acorns (which seem so small this year)! I sure hate stepping on them in my bare feet!!!!! I'm wishing I had enough strength to take Buster for a long walk!


I am thinking. . . I love these few days that we Floridians can call "Fall" and actually open our windows and air things out. I am also thinking whether I should or should not call the Cancer center about my breathing. I seem to be breathless with the slightest activity anymore and it's not going away. A new symptom with this chemo thing. Maybe it's just normal, I don't know.


I am thankful for The best eggplant parmasian dinner last night with creamy alfredo noodles!


From the kitchen... Not sure yet. I have noodles left over, so will find something quick to go with those. I have some frozen cooked chicken that I might add, breadcrumbs on top, bake a little. . . . . yum! Maybe some homemade bread. My sister keeps talking about bread ---- my all time favorite thing!


I am wearing... Blue tee shirt, undershirt (I'm cold) black slacks, a flannel shirt, and a little hat to keep my bald head warm! Why am I so cold all the time lately????

I am creating... Angels as fast as I can. Seems to be selling well these days. Although I really haven't had much strength to do much cutting or stitching. I can't stand that long anymore. Bummer!


I am going... Absolutely nowhere. I can get as far as my sister's front door, and I'm thankful for that.

I am reading... Catching up on my wonderful friends' blogs! So inspiring and you all lift me up so much!


I am hoping... To somehow get a little stronger before the next chemo next Wednesday. This one really sent me for a loop. Right now, I'm wanting to call it quits on the chemo. I think I've had all I can take. Unless I feel better by next Wednesday, I'm just not going back.


I am hearing... Nice, quiet hymns playing in the background on my computer.


Around the house... So many things that need to be done that it is depressing! Right now, it will all have to wait until I feel better. Keeping up with the wash is about all I can do right now.


A Few Plans For The Rest Of The Week. . . Somehow, I have to get to the post office and the grocery store! And I need to do laundry again. How can two people make so much laundry anyways?????.


Here is picture thought I am sharing...



I felt so humbled and honored when Kathie told me she was walking in a Breast Cancer event and had bought these angels from me, added the names of people she cared about, and attached them to the shirt she would be wearing in this walk! I have been so thankful, strengthened and amazed at how many people have lifted me up when I couldn't walk, prayed when I just didn't have a prayer left inside me, and gave me a song when mine was gone!!!!! Thank you, Kathie, and all of you, a million times over!
______________

I'm so glad to be able to participate with the others in this Notebook entry. You can visit The Simple Woman's blog
HERE!