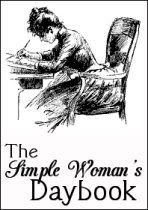 FOR TODAY (October 7, 2008)...
Outside My Window
It's cloudy, a little cooler than usual -- what a blessing! I just filled my birdfeeder, so there's lots of activity there. I love the breezes blowing today!


I am thinking. . .How beautiful the rain was last night! We needed it so badly. Also thinking about my Sister in law who was operated on yesterday. So thankful that she came through it ok. It did bring to the forefront of my thinking the reality of the near approaching day of my own mastectomy. It's been easy to push that back as I deal with chemo, etc.


I am thankful for...One good day before chemo tomorrow!


From the kitchen... Not much! Bought a rotisseri cooked chicken and might have a baked potato and some veggies with that.


I am wearing... a striped cotton blouse, black loose slacks!

I am creating... Angels as fast as I can. Seems to be selling well these days.


I am going... Post Office, Walgreens, grocery store.

I am reading... Our Scars Are Beautiful To God


I am hoping... Chemo tomorrow doesn't throw me for a loop. I don't feel that I really came back from the last one. To say nothing of making things taste just horrible. There isn't much left that is worth eating for me. But each chemo session seems to have it's own peculiar set of complaints with it. So maybe this one will be different.


I am hearing... The sound of the wind in the Sycamore tree, Buster chewing on a new bone.


Around the house... I need to change my sheets and get things washed. Still sweating!!!!! Poor Patsy! She freezes at night while I'm dripping! Buster loves it nice and cool ---- sleeps with me on his back, four feet straight in the air, hogging most of my bed!


A Few Plans For The Rest Of The Week. . . Chemo tomorrow, Neulasta shot on Thursday, then crawl in a hole until it takes it's course!.


Here is picture thought I am sharing...


Whenever I see this picture, I think waaaaaaay back to when my sister and I were so young, playing together on Ottawa Beach, Michigan, without a care in the world. A whole lot of life has happened to each of us since then -- some good, some not so good, some down right rotten, and some heart breakers! We each walked different pathways, but how thankful I am that the last 10 years we have been able to live so close to each other and be there for one another through the good times and the bad.
Tomorrow. . . . she will take my hand again and go with me to the Cancer Center, sit with me through the chemo, and we will do our usual people watching, eaves dropping, eyebrow raising, and grape eating when we are bored. Somehow, ten long years ago, the Lord knew we would be needing each other in times like these, and I'm so thankful He worked it all out as He did!
______________
I'm so glad to be able to participate with the others in this Notebook entry. You can visit The Simple Woman's blog
HERE!