OK! I'm not the bravest person on the planet. But I think I walked into this with a little too much confidence as to how I would be feeling. Let's put it this way: On a scale of 1 to 10, with a 10 being the best you've ever felt and 1 the worst, I have to say this rated a -10. But then again, you have to understand that I've never really been sick before. No major flu bug, no operations, no illnesses, etc. So what do I have to compare to?????

Day one and two were ok. Day three was down hill all the way. I felt washed out, my legs wouldn't hold me up, hot flashes that were beyond HOT -- more like blazing, heart pounding fast and hard, and just wanting to sleep but couldn't. Add on top of that, a roaring toothache, and we have the icing on the cake.

Since Buster won't go out without me, I have to somehow find my way to the back door with him and plop in the chair I have out there. But there must be something about chemo breath or chemo on the skin because one million mosquitos are waiting for me when I get there. Poor Buster. It takes him time like any old man to do his business, but meanwhile, I'm mosquito bait yelling at him like crazy. It would almost be easier to clean it up off the floor! But he does seem to know I'm not the usual crabby me and this is different. Love his little chocolate kisses right now!

It's a good thing there are three weeks between treatments. I've wondered the past few days how ANYONE goes back for #2, no less more and more and more. I know the oncologist told me that my reactions might be severe because of the size of the dosage being given me. And I accepted that ok. Just didn't expect an 18 wheeler to roll over me and flatten me out like this. I have to say, right now, my looking forward to the next chemo feels like this:




When I went to the class about chemo, they told me that after day 7 you begin to climb back up in strength and how you feel. Even today, I'm feeling a lot better, so I am so grateful for that. Happy, too, that I didn't have any allergic reactions to the chemo, or side affects that I couldn't handle. I guess I can take the "flu like symptoms" once every three weeks for a while if it means in the long run, this thing will be cured.

Sorry I took so long to update here. This is my first day upright for a while and it feels good!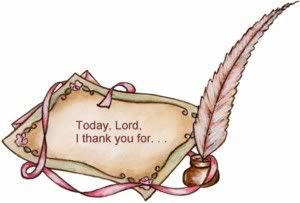 For these things, I thank you, Lord:
62. Knowing that friends are praying for me, holding me up when I can't stand upright!
63. Pudding!
64. Birds singing outside my window!
65. My sister's help and caring and understanding through all of this.
66. Scripture verses I learned as a child that somehow come back when I need them!
67. God meeting all my needs in the midst of trials!
--------