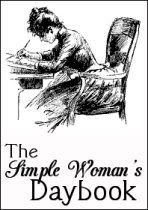 FOR TODAY (August 4, 2008)...
Outside My Window
Last week I mentioned the wasps on my window. The same 8 wasps are still there, working "as busy as bees!" Their little nest thingy is now about the size of a dime. It's been amazing to watch the routine, how they communicate with each other, how they surround this nest and protect it, and how they stick to the job day after day after day. . . . . after day!!!!! A great lesson for me on sticking to a project, no matter how monumental the task or how long it seems it will have to take.


I am thinking. . . About how long this journey through Breast Cancer treatment is going to take. It sounds like it will go well into next year!.


I am thankful for... The news I got today from my oncologist telling me that this cancer has NOT spread anywhere else in my body, just the lymph nodes under the arm. Nothing showed up on the bone scan and the CT scans. Still an advanced cancer with some lymph node involvement, but no spread. I'm so thankful to God for this. .. . You just don't know! And sooooo thankful for ALL OF YOU who have prayed during the past weeks. I feel so undeserving after letting this go for so, so long!


From the kitchen... Left over ham in potatoes and cheese sauce, veggies, and a nice fresh banana pineapple bread.


I am wearing... Sandles, black slacks, tee shirt and a plaid button down shirt over top. (Hides the "no bra" thing).

I am creating... More angels. Miriads of angels!


I am going... Post Office first, then on to a Dr. appointment with my sister, then on to Walmart to fill a prescription.

I am reading... Nothing! If blogs count, then that's what I've been reading. I have found some of the most wonderful, encouraging, God-centered blogs that have just lifted me up and I can't begin to thank all of you who share your hearts like this. I would have never believed that blogs could be used of God the way they are.


I am hoping... I'm not a whimp when it comes to the chemo treatment on Wednesday. After last week's experience, I'm almost terrified of that needle going into this port. I would hate to make a fool of myself there!

I am hearing... Buster crunching down his dinner. I'm sure I'll be nudged in a few minutes with a big sigh, and he'll have to go out again!


Around the house...I think the next few days will be trying to get some things done in advance if it's true that I will be tired with the chemo.


A Few Plans For The Rest Of The Week. . . Not knowing how I will feel, I'm leaving my options very open. No set schedule or plans.


Here is picture thought I am sharing...



If we could see beyond today
As God can see,
If all the clouds should roll away
And shadows flee.
Our present griefs we would not fret
Each sorrow we would soon forget,
For many joys are waiting yet
Waiting for you and me.

If we could know beyond today
As God does know.
Why dearest loved ones pass away
And tears must flow.
And why the darkness leads to light,
Why dreary days will soon grow bright.
Some day life's wrong will be made right
Because faith tells us so.

If we could see, if we could know,
We often say.
But God in love, a veil does throw
Across our way.
We cannot see what lies before
And so we cling to Him more.
He leads us til our lives are o'er -
Trust and Obey!
______________
I'm so glad to be able to participate with the others in this Notebook entry. You can visit The Simple Woman's blog
HERE!