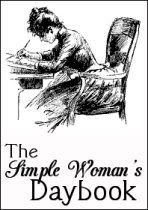 FOR TODAY (August 18, 2008)...
Outside My Window
I'm watching the storm clouds gather. The hurricane path that is predicted seems to have been drawn right over my house! I've been through a lot of these, so I'm prepared with candles, lanterns, oil lamps, water, etc. But looking out my window, I worry about two things: I hope my sycamore tree is strong enough to withstand the winds of the storm, and I wonder if the wasp nest on my window will survive. I love my Sycamore tree! My sister gave it to me as a gift years ago. It came with a stick to hold it straight and tall, and it stayed tied to that stick for a long time. But as it towered upward, it broke away, now standing proud with very wide, shady limbs. This will be its first test of strength if this hurricane hits us full force!


I am thinking. . . I don't pass the storm and wind test too often!.


I am thankful for...Increasing strength! Went to the Cancer Dr. today for a check up. Gave them more blood (They must have a gallon by now!), got weighed (lost 9 lbs!), etc. He did look at the tumor site and the notorious hole there and wouldn't say whether it had shrunk any or not. But when he prodded and dug into my armpit, he did say that whatever is under there has definitely shrunk. I'm thankful for that!


From the kitchen... Eggplant parmasean! A favorite of mine!.


I am wearing... Very little! The HOT flashes are horrid!

I am creating... Something new with my stitcheries! Can't wait to get started on it!


I am going... Nowhere. I've been to the grocery store today and that took everything out of me. Stocked up on munchies just in case the storm takes out the electricity. Isn't it funny, as soon as the lights go out, I'm hungry!

I am reading... Nothing! If blogs count, then that's what I've been reading. I have found some of the most wonderful, encouraging, God-centered blogs that have just lifted me up and I can't begin to thank all of you who share your hearts like this. I would have never believed that blogs could be used of God the way they are.


I am hoping... I'm not disappointed if I have to have more than the 4 chemo treatments the nurses told me I was going to have. The Dr. today said he said no such thing and it will all depend on how I respond to each treatment!

I am hearing... PeeWee crying for his dinner!


Around the house...There is so much to do. It's closing in on me.


A Few Plans For The Rest Of The Week. . . Get myself ready in advance for next Wednesday's chemo treatment. I'll do everything I can in advance so I don't feel guilty or upset when I'm under that 18 wheeler again.


Here is picture thought I am sharing...


He giveth more grace when the burdens grow greater.
He sendeth more strength when the labors increase.
To added affliction He addeth His mercy,
To multiplied trials, His multiplied peace

When we have exhausted our store of endurance
And our strength has failed e'er the day is half done,
When we reach the end of our hoarded resources,
The Father's full giving is only begun

His love has no limit. His grace has no measure,
His power has no boundary known unto man.
For out of His infinite riches in Jesus
He giveth, and giveth, and giveth again.
-Annie Johnson Flint
______________
I'm so glad to be able to participate with the others in this Notebook entry. You can visit The Simple Woman's blog
HERE!