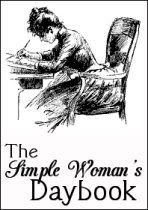 FOR TODAY (August 25, 2008)...
Outside My Window
Everything looks so green from all the rain we have had in the past week or so. And I am still enthralled with the 8 wasps that are still VERY busy building this nest on my window I just don't have the heart to knock it down yet. Through all the winds and rain, that little nest held strong there as those 8 wasps just clung to it, keeping it covered, etc. !


I am thinking. . . So many thoughts. Worried how the chemo treatment Wednesday will affect me. So much to do before then to get ready for it. And I never saw myself so ugly before. Most of my hair is gone now, leaving just a thin layer of straggly strands all over. If anyone looked like a witch, it's ME! And looking out my window, I see I need a new bird feeder. This one is falling apart. Funny though, the birds don't mind at all. They are NOT fussy as to what their dinner comes in!


I am thankful for... Sunshine. Enough daily strength to get through. A great dinner last night. Friends. Prayer. My sister who puts up with my daily whining.


From the kitchen... LOTS of spagetti sauce, Italian sausage, etc., for next week when I won't feel like cooking!.


I am wearing... Tee shirt, undershirt, black slacks --- AND A HAT!

I am creating... Nothing yet, but still have ideas!


I am going... Nowhere today, but tomorrow will be a big run to the grocery store. I'm stocking up on everything from soup to pudding, bread, juice, etc!
I remember what I couldn't eat, what tasted terrible, and what tasted good last time and want to be well stocked up.

I am reading... Nothing! If blogs count, then that's what I've been reading. I have found some of the most wonderful, encouraging, God-centered blogs that have just lifted me up and I can't begin to thank all of you who share your hearts like this. I would have never believed that blogs could be used of God the way they are.


I am hoping... I don't give up on all this. There are times I wonder if I'm cut out for a long, stretched out treatment plan like this! There have been a few times this week when I felt it definitely was NOT worth it. Other times, I realize I really have no other option. Here I am just at the beginning, and I'm already feeling like quitting????? Just can't be!!!

I am hearing... A pair of chickadees arguing with each other as to whether my bird house is the right one to rent! They've been in and out a million times and having the same conversation over and over! Can't lower the rent, so they will have to take it or leave it!


Around the house...There is so much to do. I did get vacuuming done. Got the wash done. Garbage is out. Dishes are done.


A Few Plans For The Rest Of The Week. . . Get myself ready in advance for Wednesday's chemo treatment. Been taking vitamin, etc., to help some. I'll do everything I can in advance so I don't feel guilty or upset when I'm under that 18 wheeler again.


Here is picture thought I am sharing...


All my problems, challenges and choices,
Now surrendered, Lord, I need Thee near.
For Thy guidance, this is all I'm asking,
Free me from my worry and my fear.
Thank you for this peace beyond expression,
Bought for me that day at Calvary,
Undeserved, unearned, yet freely given,
Mine just to accept through faith in Thee.
Rejoicing in Thy guidance and Thy power,
Never fearing unknown paths ahead,
Thanking Thee, though pain replaces pleasure,
Peaceful, still believing You have led.
--Cora Eelman

______________
I'm so glad to be able to participate with the others in this Notebook entry. You can visit The Simple Woman's blog
HERE!