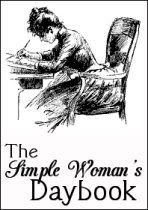 FOR TODAY (May 19, 2008)...

Outside My Window . . .A baby Brown Thrasher is learning to find seeds as Papa stands close by protecting his young one!
I am thinking... Can I be as trusting of my Heavenly Father to provide and protect ME?
I am thankful for... Unexpected fantastic sales on Ebay this week! Thank you, Lord!
From the kitchen... A new pasta dish! Will post the recipe later!

I am wearing... oversized tee shirt, NO SHOES this week, baggy pants!

I am creating... a hussif (needle case) from old linens.

I am going... Nowhere! A home day, for sure.

I am reading... A biography of Amy Carmichael by Elisabeth Elliot!

I am hoping... For more rain! It has been so dry, but we got a good shower last night! We do need more!

I am hearing... Buster snoring under my feet.

Around the house... Lies the remains of a box of Q-tips! Buster's work, of course!
A Few Plans For The Rest Of The Week. . . Catch up on orders for angels, get more listed on Ebay, trim back grapevines from my trees.
Here is picture thought I am sharing... Baby Thrashers in the nest!
I'm so glad to be able to participate with the others in this Notebook entry. You can visit The Simple Woman's blog
HERE!
Be sure to click here to enter the drawing for my giveaway this week!