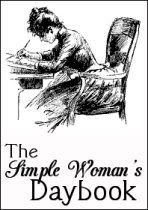 FOR TODAY (May 26, 2008)...

Outside My Window . . .The sun is beginning to set, a gentle breeze is waving the now large sycamore leaves, and a father cardinal is feeding her baby his last snack of the day before retiring for the night!

I am thinking...I've been feeding birds most of my adult life and I never get tired of watching them!

I am thankful for... Air Conditioning!

From the kitchen... Nothing today. Went for Burger King Burgers and onion rings!

I am wearing... oversized tee shirt, NO SHOES this week, baggy pants! (am I in a rut or what????)

I am creating... Not today! Finishing up some sets of angels.

I am going... Nowhere.

I am reading... Where is God when it Hurts?

I am hoping... Do I have NO hopes???? I'll have to come back to this one!

I am hearing... Buster snoring under my feet. (I might as well leave this here permanently, as he is always there when I'm on the computer!)


Around the house... Are lots of weeds that need to be pulled!

A Few Plans For The Rest Of The Week. . . Bake some bread, organize my cutting room, wash kitchen floor, laundry, send a friend a REAL letter!

Here is picture thought I am sharing... Always Hungry!
I'm so glad to be able to participate with the others in this Notebook entry. You can visit The Simple Woman's blog
HERE!