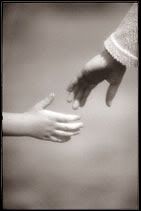 Ever since I was eight years old, Mother's Day has come and gone with many different and mixed emotions. You see, my Mom died when I was eight. And Mother's Day was never the same again. Though I eventually had a stepmother, I was old enough to know that this was "fake." I went through the motions, but my thoughts always went back to my "real" Mom.
Being single, I never had the joy of being a Mom either. So on this day, I feel a little out of place. No one to send flowers to, and I certainly don't get any!!!!
Please understand, I'm not having a pity party here. God has been so good to me in so many ways. But He has also given me the sensitivity to see that there are many women out there who hurt terribly on this day. Some very close and personal friends have lost their Moms recently, and this day is so hard go through. Others have lost a daughter, a son, a grandmother, etc. It is these ladies that I'm drawn to. And it is these ladies that I post this poem for.
The Time of Sorrow

The time of sorrow -
Has it come today?
Has it entered uninvited,
Settled in, it seems, to stay
. . .Forever?

'Tis not a gift, you know.
It is not yours to keep,
But lent to you just for a while;
And though it seems to rob you of your smile,
You will not always weep. . .
For your sorrow is not your own,
Just lent to you but for a little while.

Use it. . . be not angry or ashamed
That He should think 'tis sorrow that you need.
One day, when all its purposes are through,
And there's no further work that it can do,
It will be taken. . .even as you plead.

Taken, for 'twas only lent to you,
To bind you closer than you ever knew,
Closer to the One who feels it all,
Touched by all your heartaches. . .
Large or small.

So let sorrow do its work
And bide its time,
For someday soon again
The sun will shine.
And when it does, I think that you will see,
That sorrow was a friend, if that can be.

You are changing -- changing still today,
For you have grown more tender
On the way.
And when sorrow comes and takes another's hand,
Your softened heart will cry,
"I understand!"
--Cora Eelman