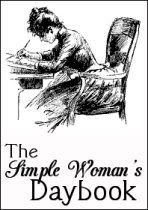 FOR TODAY (May 5, 2008)...

Outside My Window . . .My Sycamore tree is casting a beautiful shadow across my yard as it is now full of big leaves. It grew so fast!

I am thinking... About how small that tree was when I received it as a gift just a few years ago!

I am thankful for... God's faithful and constant provisions for me, even through hard times!

From the kitchen... Left over baked potatoes (twice baked) with butter, cheese, bacon bits, and sour cream!

I am wearing... oversized tee shirt, shoes that hurt, baggy pants!

I am creating... primitive pincushions.

I am going... To the grocery store for dog food and bread.

I am reading... Pretty Little Pincushions. A great find on Ebay!

I am hoping... Something to private to share, but heavy on my heart!

I am hearing... Several baby cardinals who have just left the nest learning about the bird feeder but still wanting to be fed.

Around the house... Let's not even go there. I need to clean from top to bottom.

A Few Plans For The Rest Of The Week. . . Get ahead on making things for ebay, make some bread with a new recipe for my breadmaker, finish some stitcheries and get them framed.

Here is picture thought I am sharing...
I'm so glad to be able to participate with the others in this Notebook entry. You can visit The Simple Woman's blog
HERE!