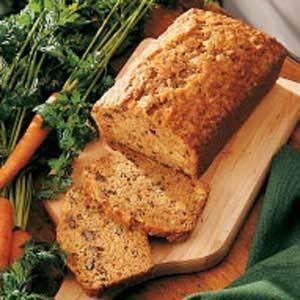 I've made a lot of quick bread in my day. Most of them were good, but none of them come to mind as the greatest -- or "keepers" -- as I like to call them. I like Bananna Bread, and some of the other holiday type breads made with pumpkin, etc.
But when this recipe came out of the oven, I KNEW I had found the food of the angels!!!! It is to die for! Add some cream cheese, or butter (the real stuff) and make it nice and fattening, but it is wonderful just by itself. And guess what?????? Your kids will never know they are eating LOTS of good-for-you veggies!!!!
This is the second time I've made this bread in two weeks, and the recipe makes two large loves. And the best part? It seems to get better as each day passes. It doesn't dry out like some quick breads.
So. . . . give it a go!
3 cups all-purpose flour
2 cups sugar
1 teaspoon baking soda
1 1/2 teaspoon cinnamon
1 teaspoon allspice
3/4 teaspoon salt
Mix all the above together in a large bowl
In another bowl,
beat three eggs
2 cups shredded carrots (I peeled mine first)
1 cup shredded zuchinni (I peeled mine first)
1 8oz can crushed pineapple, drained
1 cup raisins
2 teaspoons vanilla extract
1 cup chopped walnuts or pecans (optional)
Add the above stuff to eggs and mix
Stir into dry ingredients until just moistened.
Grease 1 8" x 4" x 2" loaf pans. Bake at 350 degress for 65-75 minutes or until a toothpick inserted near the center comes out clean. Cool for 10 minutes before removing from pans to wire racks to cool completely.
(I couldn't wait! It wasn't cooled completely when I cut my first piece!)
Just give me a cup of tea, a big slab of this bread, and I'm in heaven!
Please Note:
The first time I made this, I did not have any raisins and left them out. The bread popped right out of the pans with no cracks, etc. Today, I added the raisins, and it really stuck to the bottom. Because I thought it would fall out so easy, I wasn't being careful, so it kind of broke up on me. So use the raisins at your own risk!!!!!