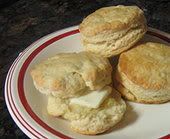 OK! I admit it! I'm not June Cleaver, Betty Crocker, or Martha Stewart. But I do like to cook, and there are a few things I do quite well and am proud to serve. But biscuits????? I just can't seem to get the hang of it. Maybe if I stuck to the same recipe and made it one thousand times over, then they would turn out like they do at that old country diner or the big truck stop off the interstate.
Something's been going on inside me. Maybe it's that "I'm just as good as anyone else" thing that pops up once in a while, or the fact that I'm getting older and have yet to conquer the basics of fundamental homemaking, like sewing, cleaning, cooking, breadmaking, gardening, etc. I'll be off to the old folks home and won't have a claim to fame in any of these areas!!!!!
I keep going to all of your blogs and see these mouth watering pictures of what you present to your families on a regular basis, and here I am, still smacking little cans of biscuits on the side of my counter (IF I get to them before they explode in my refridgerator!!!!). So. . . .I'm on a quest now to be the best biscuit maker in the USA!
So. . . .I get tons of flour, new baking powder, baking soda, shortening, buttermilk, and a host of other "stuff" that the different recipes call for. My first try???
Buttermilk biscuits! I followed the recipe to a tee! Measured extra carefully.
Did exactly what the recipe said, except it did NOT tell me how big or how thick to make these. What a disappointment. What went IN the oven is what came OUT. Same size, same thickness, but nice and browned. They tasted great, but they did not rise at all!!!!
So. . . .for those of you who would love to tell me what I did wrong, here is the recipe:
2 cups self-rising flour
1/2 cup shortening
1 cup buttermilk
Cut shortening into flour. Gradually add buttermilk. Stir to blend thoroughly. Knead dough 10 - 12 times on lightly floured surface. Pinch off small pieces of dough. Shape into biscuits and flatten slightly. Arrange in a generously greased pan.
Bake at 400 degrees 15 to 20 minutes or until golden brown.
Please note: I did NOT have self-rising flour, so used 4 tsp of baking powder and 3/4 tsp salt.
This morning, they were delicious with sausage gravy slathered on top! But they were NOT something I would want to show to anyone except BUSTER!
Cora