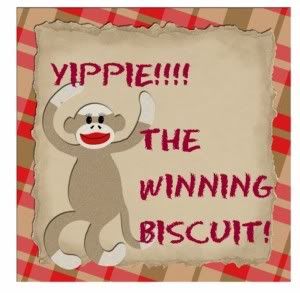 I just want to thank all of you who responded to my woeful tale about my biscuits. Since I had some left over pot roast from last night, I decided while it was all fresh in my mind to do the biscuits again. I think I took the advice of ALL of you! (except those who told me to use the frozen ones!!!!!) One thing I DID differently was pat the whole pile of dough into a 9 x 13 pan, leaving about 1 inch on either end. I then cut it into squares and separated them just a little (as someone mentioned in their post.) These were then much thicker than last nights little bombs.
I have to tell you, they turned out superb!!!! Very light, but did not fall apart.
Thank you again for making a biscuit maker out of me!!!!
PS: I did find a wonderful site with pictures and all that uses about the same recipe I did. If you are a beginner like me and want to try your hand at making biscuits, the pictures here might encourage you to try it!
CLICK HERE!