What a day yesterday! You would have been in stitches if you could have watched this process. Today, I am typing with withered up fingers from the soap, but boy, are they clean fingers!!!!

Lea, from Farmhouse Blessings!, has posted a wonderful entry on her blog with instructions on how to make this CHEAP, wonderful laundry soap. The word "CHEAP" was the seller for me, as I hate spending all that money that just goes down the drain -- literally!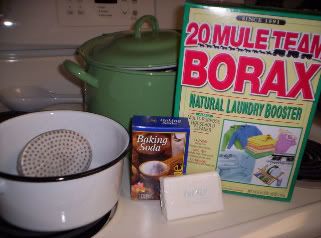 But. . .and here's where I ALWAYS run into problems. . . I HAD to make it better, and bigger, and . . . .
I had seen a recipe for a DRY version of CHEAP laundry soap over on Mary Jane's Farm Forum, so had some of those ingredients on hand, too.
Got my HUGE pot out and decided, there's plenty of room in here for a double batch, so proceeded with that. Got my cauldron boiling, shaved my bars of soap, and dumped that in. Started stirring it up, and it was melting and mixing in nice. Good so far.
Then. . . . . I dumped in the baking soda, the borax. . . . .and since I had it on hand, why not add the washing soda, too? That stuff started foaming up, bubbling like crazy, right to the top of the pot! I pulled that sucker off the eye and started whisking it down as I wondered if my whole house would soon be full of bubbles!!!!!
I managed to get it under control, with much addoo, and stirred and whisked all day and evening. My house smelled wonderful, my stove is spotless from wiping up soap all day, my sink is spotless, and my hands and nails are cleaner than they have ever been.
I poured this brew into a large cat litter container, and I did my first load of laundry today. It is cleaner and fresher than I've had in a long, long time. I have enough for about 64 load of wash (that's a double recipe) and it cost be about $3.00 to make (and I still have dry stuff left to make more). I'm a happy (and clean) camper!