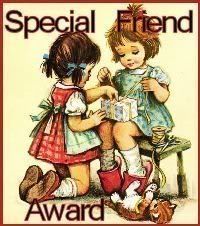 Lea from Farmhouse Blessings
has just honored me with this wonderful award! Thank you so much, Lea! YOU have been such a wonderful friend to ME, and I feel humbled that you would think of me in this way!
There are lots of deserving people out there who regularly are giving of themselves in friendship, love, prayers, concern and help. But there are two that come to mind that I want to pass this award on to:
1.
Dani from Eagles Wings!
I've known Dani for a long time now through groups on Ebay and through her blog. It's been so wonderful to read of her journey growing up, finding the Lord, and all her experiences. She has been such a great help in our Ebay group, Glad Tidings Primitives and Folk Art, and a real testimony of God's provision and faithfulness. So this is for you, Dani!!!!
2.
Nancy from Inside Nana's Head
has been one of those all around, down to earth, practical, says-it-like-it-is, comical, giving, compassionate, faithful friends. What more could you ask for????? She has been so understanding, giving, and loving towards me, helping me with my crafting and sewing, etc. Thank you, Nancy!!!!