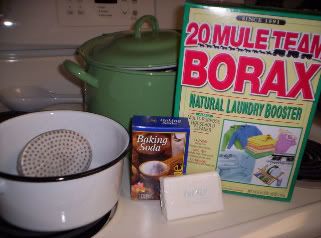 A little while ago, I told you all about Lea's recipe for laundry soap and my fun in making it.
You can read about it here!
I thought I would give you an update as to how I like the soap, etc. The first time I washed my laundry, the water in the washing machine was sooooo. . . . . (let's not even go there)!!!!. . . . . dirty, that I had to rinse several times. A good sign or a bad sign???? I did notice, however, that my clothing was soft and brighter. I had rubbed a little of the mix on stained tee shirts, spots on other things, and even used it as a soak for soiled, vintage linens. Worked great as a spot remover.
This week, I just happened to peek into the washing machine during the wash cycle and noticed that the same clothing I had washed a few weeks before was NOT making that awfully dirty, muddy looking wash water. Had my things really collected that much soap residue, etc., over time????? I can't tell you how pleased I am with this stuff!!!!
I also found a new use for it. Buster was really sick last night and did his business (very runny stuff) all over my bedroom carpet at 3:00 am !!!!! Since there was no temporary solution to this horrible problem, I "took the bull by the horns" and cleaned it up best I could. But the smell!!!!!! OK! I'm up anyways, right? So I go get the steam cleaner, but I had no carpet cleaning stuff, no spray, no spot remover, no miracle pet stain remover ----- NOTHING! So, I made a plan.
I filled the machine's little tub thing with HOT water and vinegar. No soapy stuff in the little thingy. Then, I took my trusty laundry soap I had made, and started to put some on the stains, rubbing it in well. Then, I took my trusty machine and began to clean it. I can't tell you how wonderful it did. My carpet looks as good as new (at least where I cleaned it!). And my bedroom smells wonderful!
So, if you haven't tried this soap recipe, please hop over to
Lea's Blog, Farmhouse Blessings!
for the recipe and the instructions! You won't be sorry!