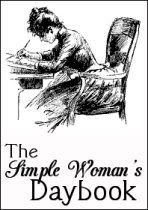 FOR TODAY (April 28, 2008)...

Outside My Window . . .I see a Brown Thrasher feeding her baby at my feeder.

I am thinking... How will I get my trash to the dumpster past the vultures that have made my yard their roost!

I am thankful for... Wonderful, Godly friends I've made through my short time blogging! You are all such an encouragement to me!

From the kitchen... I will have a wonderful squash casserole and homemade bread.

I am wearing... oversized tee shirt, no shoes, baggy pants!

I am creating... A primitive candlemat.

I am going... I hope nowhere. I just want to stay home.

I am reading... A vintage magazine, Modern Day Priscilla, looking for old recipes and sewing ideas.

I am hoping... To get my workshop somewhat cleaned and straightened up today!

I am hearing... The Cathedrals singing, "The Poet's Song".

Around the house... I will scrub my kitchen floor, vacuum, and laundry.
One of my favorite things... Zucchinni bread with butter.

A Few Plans For The Rest Of The Week. . . Make more Laundry detergent, cut and sew some quilt blocks, send out a gift package, mow my lawn, teach myself something new on my sewing machine.

Here is picture thought I am sharing...
I'm so glad to be able to participate with the others in this Notebook entry. You can visit The Simple Woman's blog
HERE!