I can't believe that Buster will be 1 year old in just 8 days. In some ways, it seems like yesterday that I drove down that country driveway to see that cute, little, innocent, playful, loving puppy! In other ways. . . . .it's been the longest year of my life!

I'm used to very calm, sedate, loving, gentle Labs! Breezy, my Lab from years ago, was a quiet, gentle, lazy girl. Nothing like this tornado of destruction I have now.
If it weren't for the fact that he is sooooooo happy, loveable, and attached to me, I think I would have gotten rid of him by now. It's those eyes. . . . . .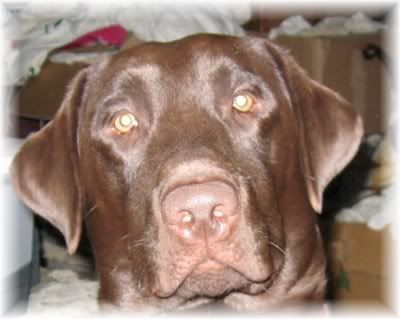 We still have a lot of behavioral issues to work through. And what in the world are we going to do with the anxiety attacks he has when he is not velcroed to my leg? And how can I afford to keep replacing windows when he decides he doesn't like the squirrels in the yard?
Everyone says, "Give him two years. . .he'll settle down!" Well, I've aged 10 years in the past one, and I'm not sure I'll make it another year, but. . . .
I don't think I could go a day without those slobber kisses and those dreamy eyes!!!!!