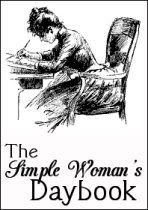 I'm a day late in posting this. This is supposed to be a Monday thing, but I just had to join in. Couldn't wait for another week to pass!
FOR TODAY (April 22, 2008)...

Outside My Window I see. . . my Sycamore tree has leaves now big enough to cast shade from the afternoon sun.

I am thinking... of all the birds that have found food at my feeder!

I am thankful for... God's provisions for me, just when I need them!

From the kitchen... I am making a pineapple - zucchinni bread.

I am wearing... old tee shirt, jeans, and tennis shoes!

I am creating... A needle keep made from a vintage embroidered napkin.

I am going... Nowhere today.

I am reading... An old favorite. Biography of Amy Carmichael.

I am hoping... All my little titmice come out of their house before it's too hot!

I am hearing... The cries of those little birds as Mom and Dad feed them.

Around the house... I need to pick up after Buster, as he has chewed up some cardboard!

One of my favorite things... A cup of hot tea in the middle of the afternoon.

A Few Plans For The Rest Of The Week: Cutting angels, grocery shopping, clean the garage, explore in my shed for forgotten treasures I have.

Here is picture thought I am sharing...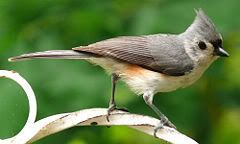 I'm so glad to be able to participate with the others in this Notebook entry. You can visit The Simple Woman's blog
HERE!