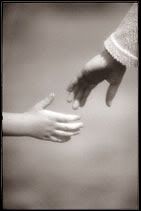 I'll admit it! I'm not really good in this area of trusting! I don't know why, either. I'm getting older, and as I look back over my whole life, I can't say there has ever been a time that the Lord has failed me. Yes, I've made some crazy, immature, self-centered choices, and I've paid dearly for those. But in God's wonderful forgiveness and grace, He has taken those experiences and turned them all into learning experiences for the future He had planned out for me.
These are hard times! Let's face it. Many of you have experienced set backs due to loss of jobs, income, illness, and other unexpected things we want to call negatives.
During these times, we draw upon every resource we have within us to pull through, and we tend to ask God why what seemed so good at the time and what seemed to come from Him is so suddenly taken away. I've had my dreams washed away like castles in the sand. My plans have gone up in smoke, and my business ventures have crashed down in a million pieces at my feet. And I have questioned God at times as to why He would give me something and then just grab it away from me.
I may never know the reasons why, and you may not, either. But I have come to realize that through it all, He has never failed me, never left my side, and never looked on me in shame. Hosea 6:3 says, "And we shall know, if we follow on to know the Lord." If our goal in life is to simply know HIM, then someday, we shall know. Can you trust Him with that?
It all seemed so right. . .
So Perfect. . .
So God-ordained.
First, a dream. . .
Then, a prayer. . .
And then, it happened.
He heard,
He answered,
He supplied.
I was so sure all I had planned
Would come to pass. . . .someday!

Carefully. . .and prayerfully. . .
I worked,
I followed,
I obeyed. . .

But then, You changed it all, Lord.
And I did not understand.
You did not allow me to finish,
To see the fruit of my labors,
To hold in my hands
The realities of my dreams.

Yet, I will trust,
AS I have trusted in the past.
Your ways are perfect,
Planned in love,
Protected by your promise
That someday. . .sometime. . .
We shall know. . .
If we follow on to know the Lord.
--Cora Eelman