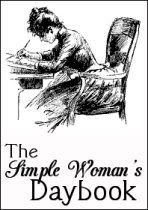 FOR TODAY (June 3, 2008)...
Outside My Window
. . .I'm so anxious, because a mother cat is trying to get 3 kittens across the street. The cars are coming so fast. . .. I'm just praying she makes it. I just can't watch!!!!!


I am thinking... Why is life so hard for these stray animals? I want to feed her, but last time I did that, I ended up with 38 cats.

I am thankful for... Music!


From the kitchen... Beans with smoked sausage, cornbread.

I am wearing... oversized tee shirt, NO SHOES this week, baggy pants! (am I in a rut or what????) Still in the SAME rut! What can I say? feels great!

I am creating... Believe it or not, I'm writing again. I haven't written any poetry or stuff for a while, but feel that tug at my heart again!

I am going... Nowhere, I hope! Just too hot!

I am reading... Taking a break. Nothing!

I am hoping... A Dr. visit goes well on Thursday. I'm finally going!

I am hearing... The Cathedrals on my stereo. My nephew set it up for me while he was visiting last week. I missed all my CD's going constantly!


Around the house... Do we need to discuss that??? It's such a mess! Almost beyond fixing anymore!

A Few Plans For The Rest Of The Week. . . Help Patsy get around. She fell a few days ago and is very stiff and in a lot of pain. Do lots of wash. Have lots of decisions I have to make. Get ahead on making things to sell.

Here is picture thought I am sharing... Mommie, please don't make us cross the street!!!!!
I'm so glad to be able to participate with the others in this Notebook entry. You can visit The Simple Woman's blog
HERE!