One of my favorite little books has been the Language of Flowers -- a list of all the flowers and their meanings. It used to be a very important thing to send just the right flower to a person, as the flower of choice spoke your heart more than your written word!

My Flowers

I walked with Him at sunset through His garden, sweet and fair.
I stopped along the way to see a special flower there.
It seems so small, so fragile; yet, so perfect it had grown!
I asked the Master Gardener, "Can I have it for my own?"

He answered by explaining just how hard they were to grow,
But if He found me willing, it would take a year or so.
I told Him I would do the things He found required of me.
He smiled, took my hands, and said, "Then it shall be!"

He led me to the wilderness! I did not understand.
The Desert Place! Oh surely, this was not the way He planned!
And yet, He reassured me, if I let Him have His way,
The flowers I had asked for would be surely mine someday!

At first, it seemed so wrong that He would leave me there alone!
I doubted all His leading, but so little I had known.
And as I walked the pathless ways of deserts hot and drear,
Somehow, though disappointed, I was sure that He was near.

Slowly, oh so slowly, I was changing, this I knew!
And yet, to find a song just seemed impossible to do!
I felt ashamed of all my doubts, of all my questions, "Why?"
I saw my own shortcomings, and I thought I'd rather die!

I asked Him all my questions, asked for help with all my cares.
He gave me reassurance, His encouragement was there.
I learned that I could tell Him then how weak I was inside,
And as I saw my weaknesses, my pride was set aside.

Somehow, I did not realize all the changes He had made,
But then He came one evening as the sun began to fade.
He said that I was ready for those flowers -- could it be?
I asked Him what He called them -- and He said,
"Humility!"

--Cora Eelman
What is that flower in your garden saying to you today?????
Click Here To Find the Meanings of Your Flowers!
-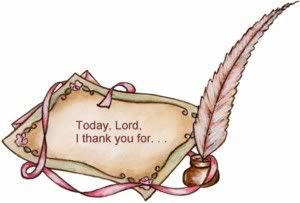 For these things, I thank you, Lord:
20. A wonderful, long awaited reunion with my older sister!
21. Delicious tomatoes from the garden -- just when there are none in the stores!
22. Great sales of my items on Ebay!
23. A wren getting buggies off my window!
24. Fresh, clean sheets on my bed!
25. Another day of Air Conditioning!
--------